Training and Instruction following Intelligence Community Tradecraft
Strategic and cover Operational, Tactical, and Technical Intelligence VETERAN DISCOUNTS 20% - CONTACT TREADTONE 71 TO GET YOUR DISCOUNT - Subscription Services END OF YEAR DISCOUNTS END Jan 1 "The best course we have ever taken by far!" Challenging, focused, forcing us to examine every facet of our threat intelligence program." - February 2020 "Best pure cyber intelligence, threat intelligence on the market! The Strategic Intel Course is the most comprehensive and challenging." - December 2020
Enroll now
Cyber and Threat Intelligence Fourth Quarter 2020 Maturity Assessment and Training Combo
Online training of Certified Cyber Intelligence Analyst Your Company Focused Customization (offer good through December 15, 2020)
Tier 1 Cyber Intelligence Maturity Assessment
In-depth questionnaire - we provide oversight for you to complete the questionnaire
Analysis of questionnaire results - we will request supporting documentation firsthand (secure review after signing your NDA) to validate the scoring
Create the Assessment Report and report
Final report delivery, point-of-contact brief
Online executive brief of the results
This discount is not good with other offers or existing discounts.
ENROLL in our FREE Overview Course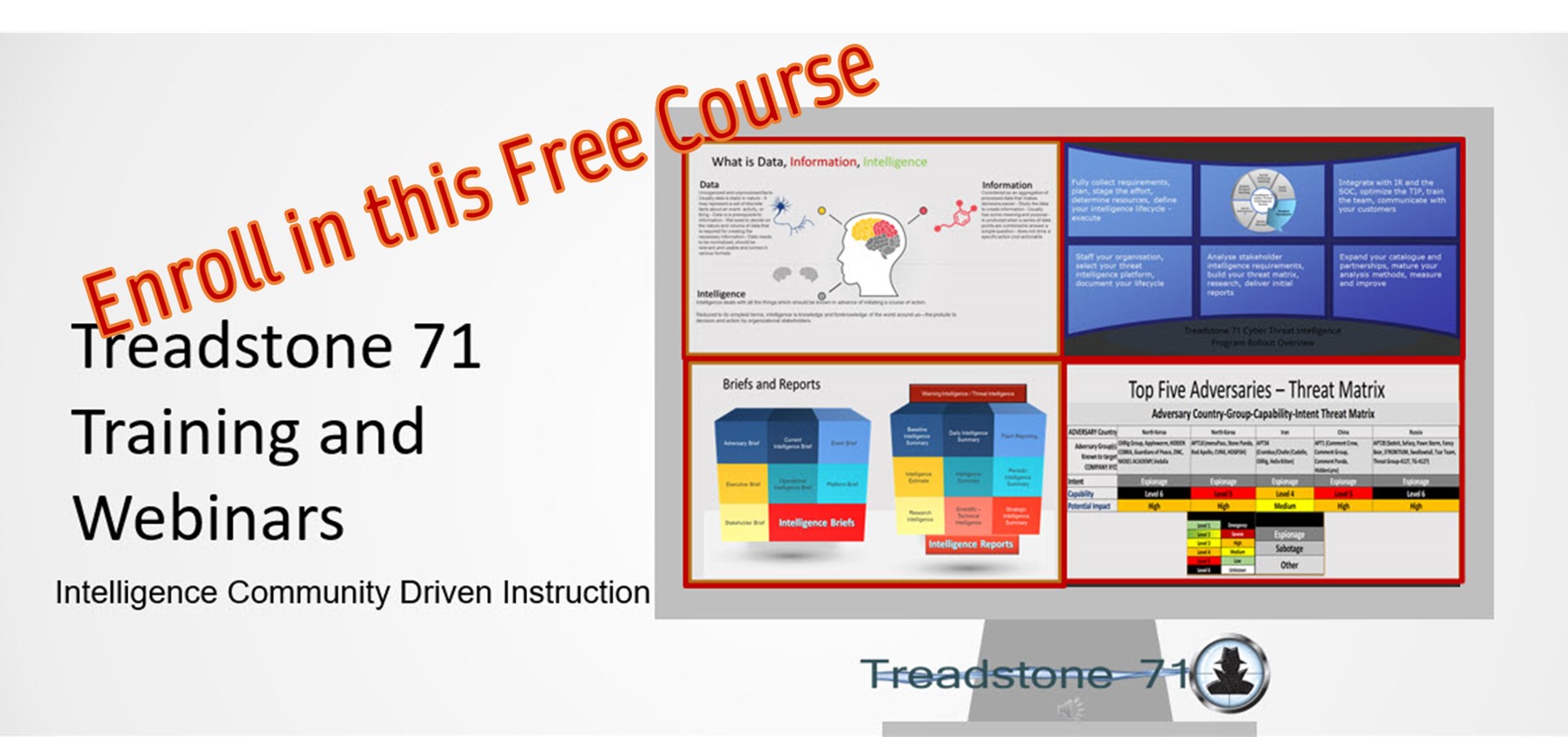 Treadstone 71 gives you any time, anywhere access to the most intensive, intelligence community validated training. Our courses follow standards only taught in the US Intelligence Community fully adapted to the cyber environment. Teaching cyber intelligence and counterintelligence since 2008, taught by former intelligence community professionals.

All Treadstone 71 courses include:
A minimum of 8 weeks of online access easily extended to 12 or 16

Hands-on case studies using cyber OPSEC methods for passive collection against adversaries

Certified Cyber Intelligence program - Certified Cyber CounterIntelligence program

40 CPEs

Courseware and materials (Depending on the course - VPN, Templates, Process Flows, Books (Kindle), Examples, Procedures)

High-quality recorded instruction and

Direct access to the instructor

The Cyber Intelligence Course follows the International Association for Intelligence Education Standards For Intelligence Analyst Initial Training (IAFIE) and the Professional Head of Intelligence Analysis Framework (PHIA).
International Association For Intelligence Education - IAFIE:
I. Introduction to Intelligence II. Critical Thinking III. Analytic Writing IV. Creative Thinking V. Analytic Briefing VI. Structured Analytic Techniques. VII. Analytic Issues VIII. Argument Mapping IX. Case Studies
Professional Head of Intelligence Assessment - PHIA:
As an analyst the framework will:
help you articulate your current skill levels, using language that is recognized across the intelligence assessment community.
help you identify learning and development gaps.
support you if you wish to move between intelligence assessment organisations more easily.
As a line manager/team leader of analysts it will:
help you recruit analysts more effectively.
facilitate career development conversations.
enable the increasing professionalization of your team.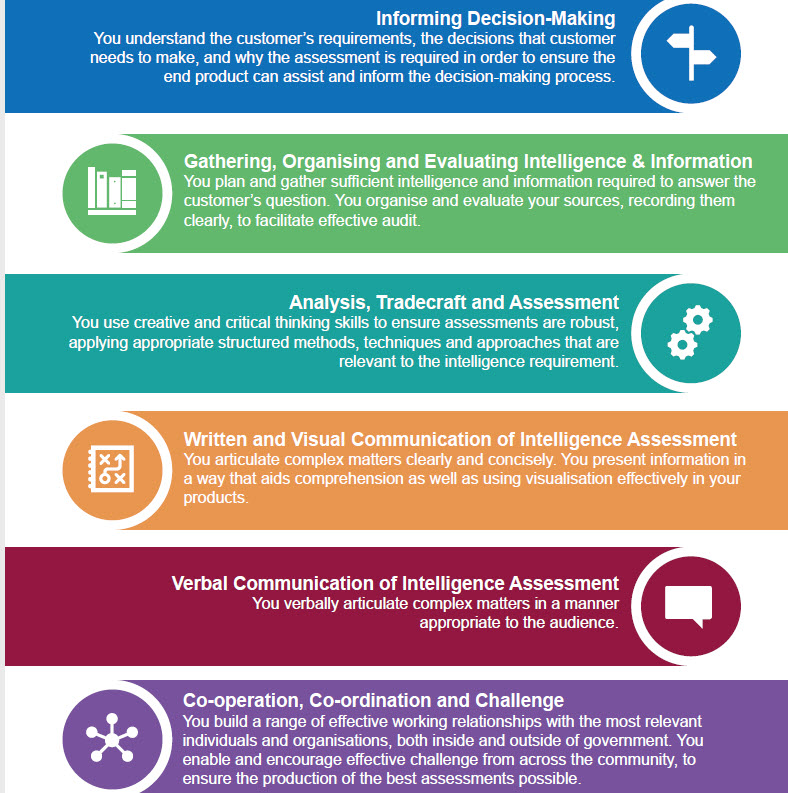 As technology constantly and rapidly changes, so does the way our information is attacked and gathered. Society is being shown, that not only in the cyber realm but in human intelligence gathering, the lengths people will go to obtain information. Treadstone 71 Cyber Intelligence training courses allow professionals on all levels, the ability to learn methods, techniques, and tools; to not only collect information, but to recognize and counter the gathering, analytics, and critical thinking skills used in intelligence and denial and deception. The hands-on case studies, scenarios, and team presentations in our cyber intelligence training courses provide the ability for the extensive comprehension necessary to strengthen both your personal and professional intelligence capabilities.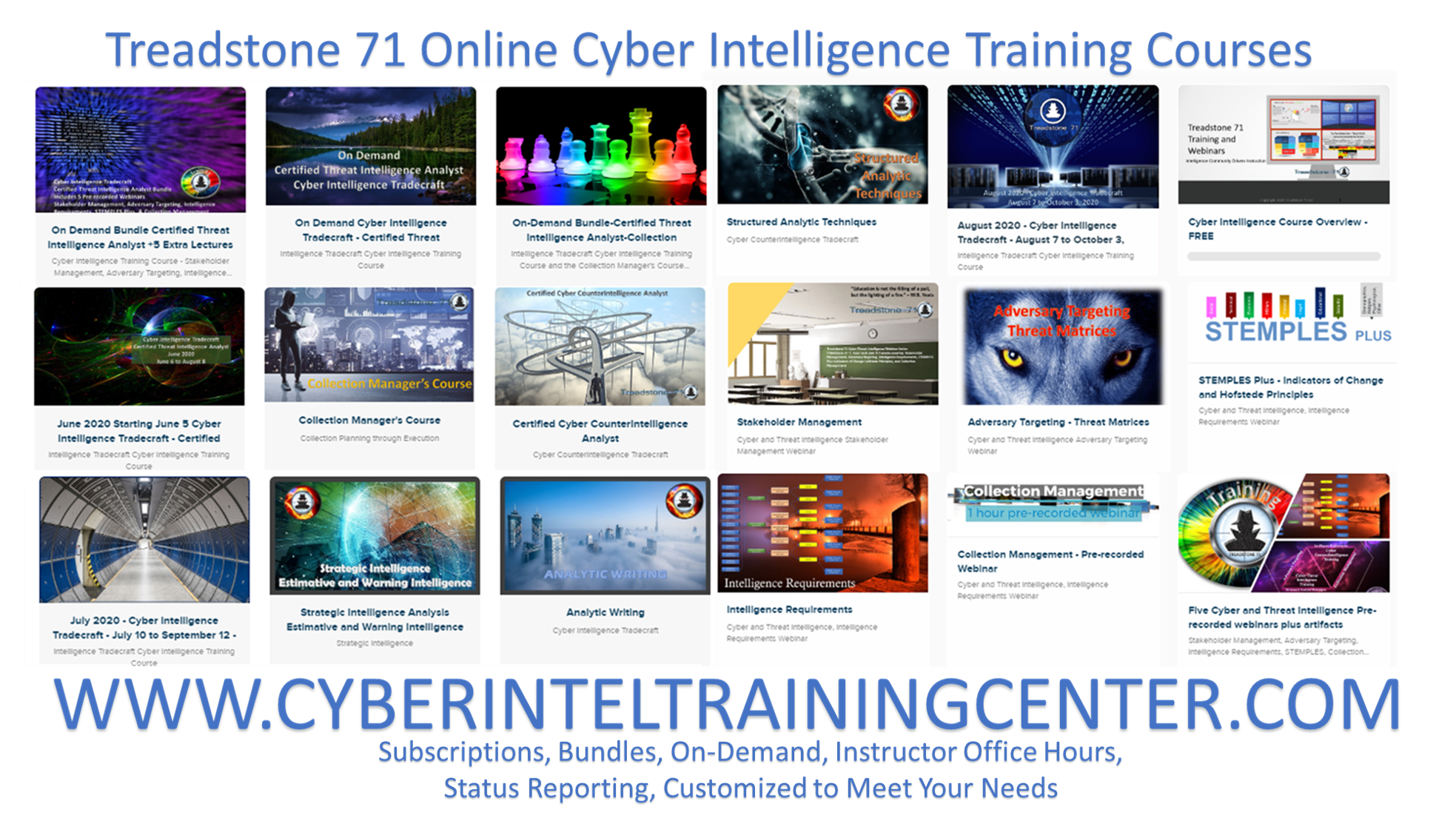 Treadstone 71 Subscription Program - Training/CyberIntellipedia/Consulting
Treadstone 71 On YouTube On YouTube - Treadstone 71 Blog - Treadstone 71 Main Website
Treadstone 71 courses cover an amazing amount of detail. Intelligence Tradecraft applied to the cyber environment includes the following: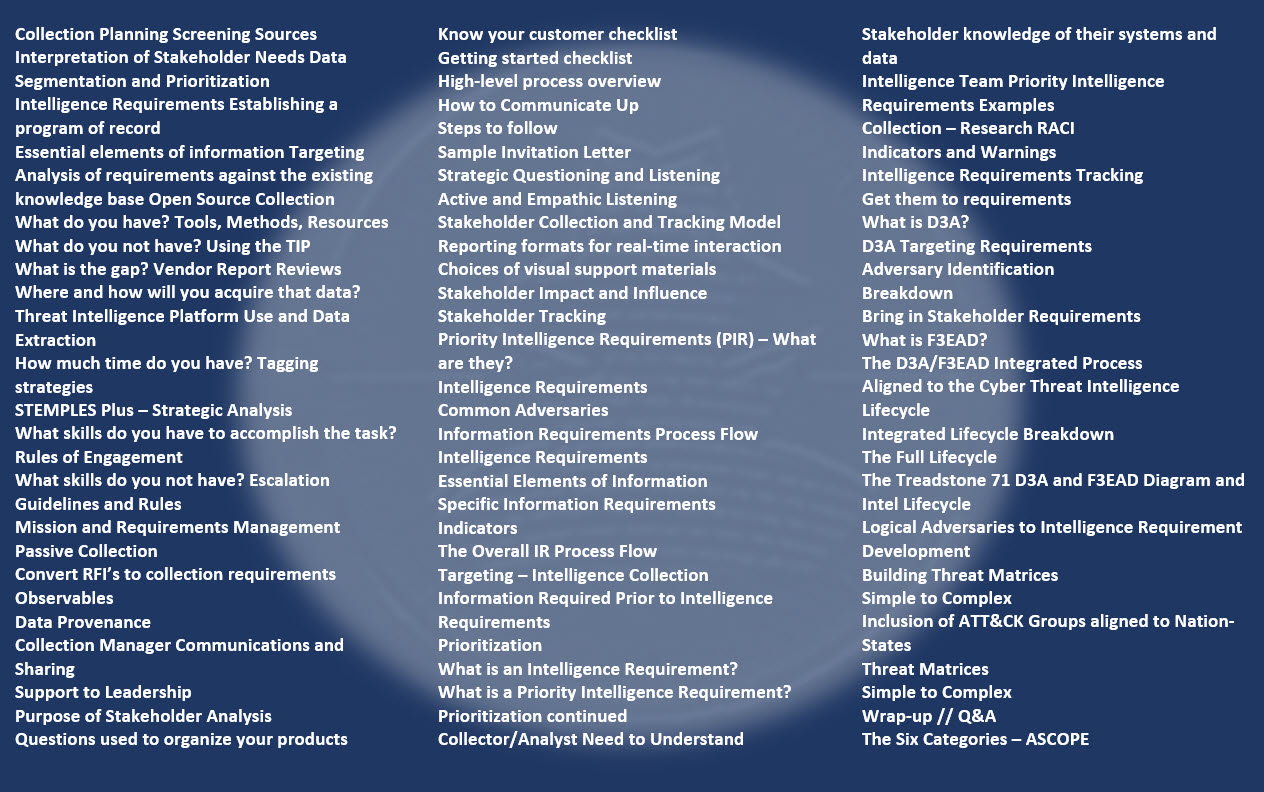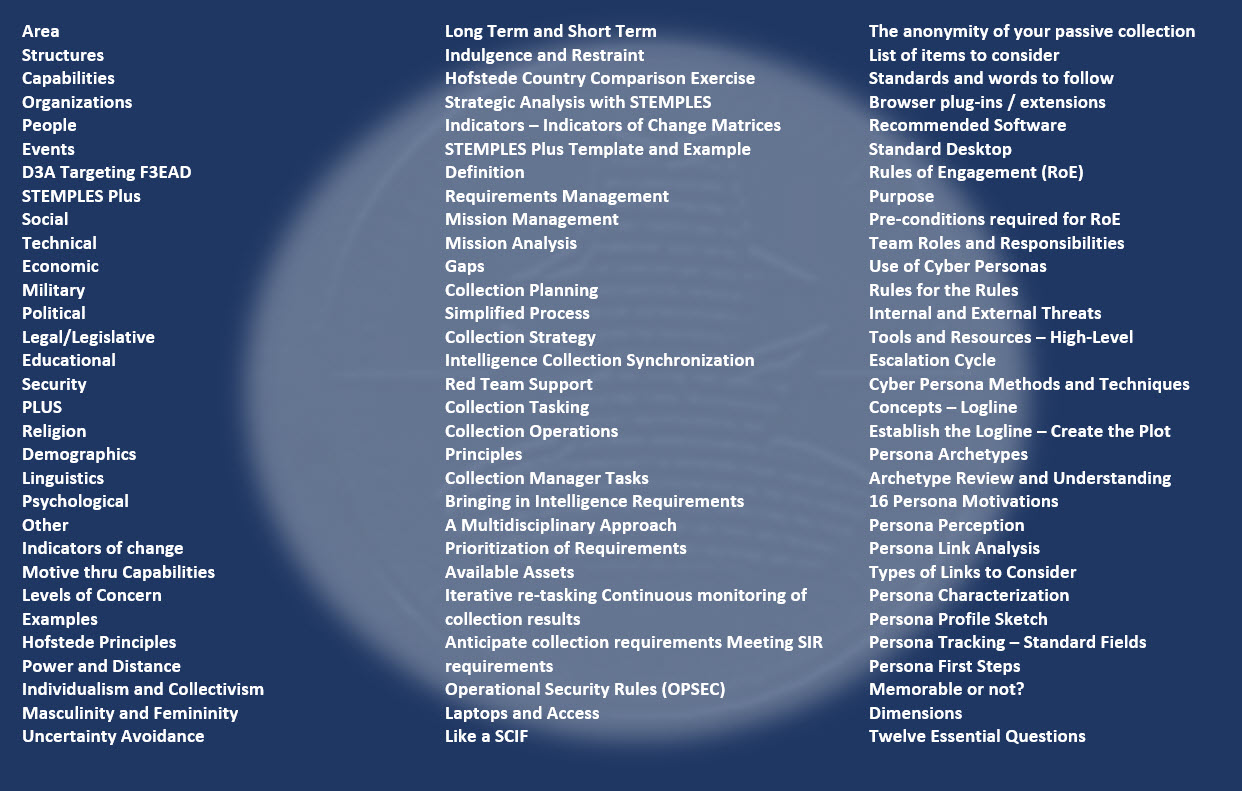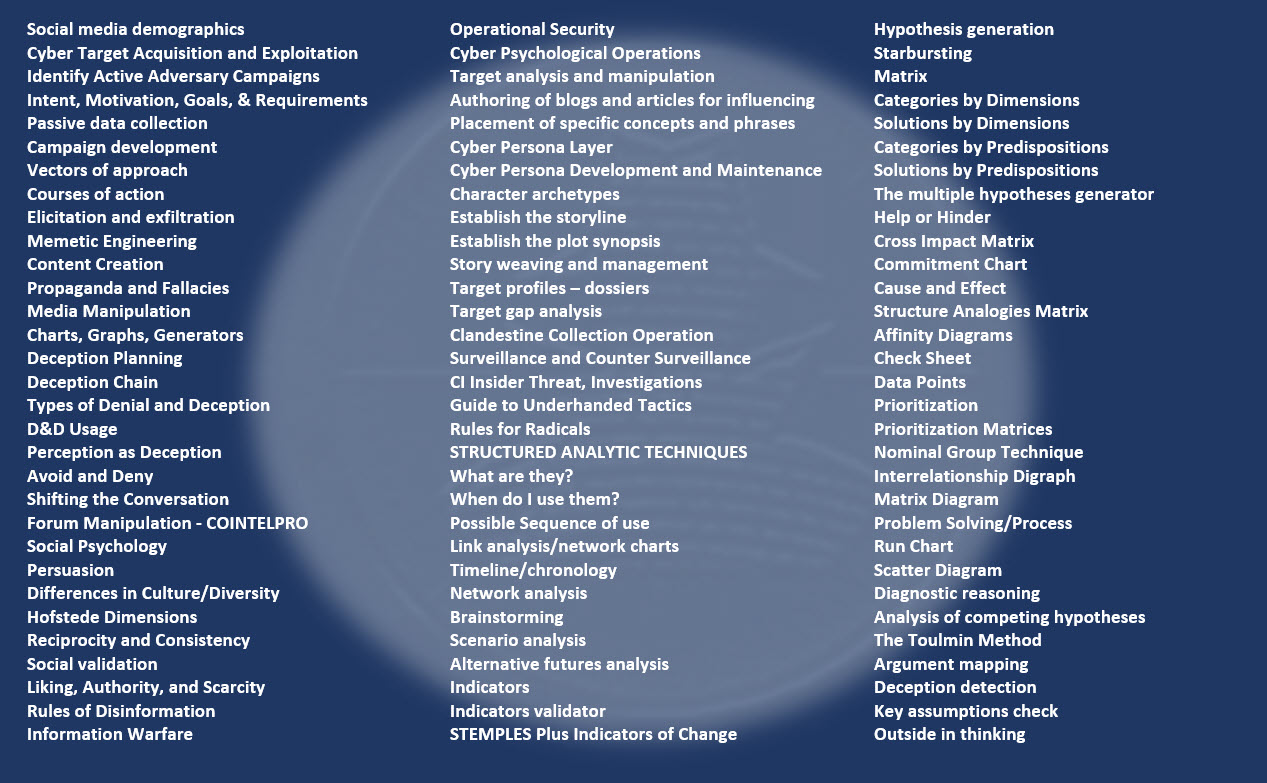 Course Cancellation Policy
If you wish to cancel your course registration, your registration fee will be fully refunded when written notification is received 30 days before class start. After that date, if you need to cancel your registration, please email [email protected] with the reason why you need to cancel. If you have accessed the content (i.e., the class has started) we will be unable to refund your registration fee. Refunds will be issued back to the original payment method used within 5-7 business days minus platform registration fees.