Training and Instruction following Intelligence Community Tradecraft - Cognitive Warfare
"The best course we have ever taken by far!" Challenging, focused, forcing us to examine every facet of our threat intelligence program." - February 2020 "Best pure cyber intelligence, threat intelligence on the market! The Strategic Intel Course is the most comprehensive and challenging." - December 2020 "Intense training and great case study activities. Practical exercises where you actually learn! No study to a test, then forget." "The best pure intelligence course hands down." "No other cyber intel series of courses comes close to what Treadstone 71 has built and continues to offer!" Now Offering Subscriptions!
Enroll now
---
Online training of Certified Cyber Intelligence Analyst - We provide public and private online training. Private training offers a level of customization. For more information on customization of courses - Contact Us.

Subscribe Now! Only 20 will be sold. $99,000 for all Treadstone 71 courses as listed in the image below: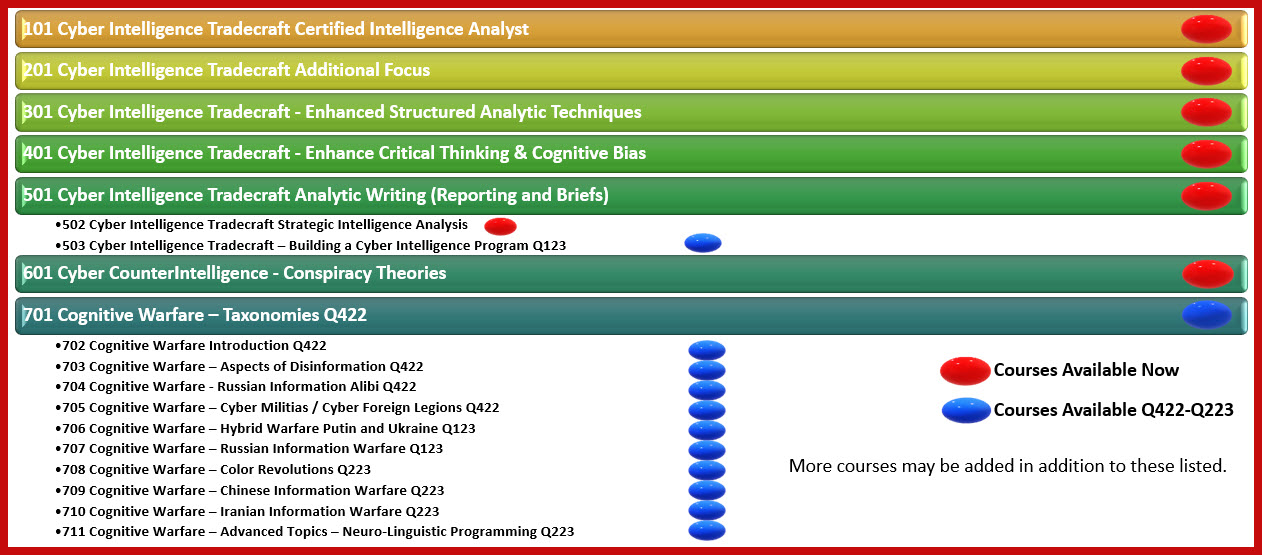 ---
See our new in-person course: CYBER MILITIAS - RAPID ORGANIZING AND EXECUTION AGAINST NATION-STATE AGGRESSION
---
Treadstone 71 gives you any time, anywhere access to the most intensive, intelligence community-validated training. Our courses follow standards only taught in the US Intelligence Community fully adapted to the cyber environment. Teaching cyber intelligence and counterintelligence since 2008, taught by former intelligence community professionals.
Courses include:
Basic Cyber Intelligence Tradecraft - Certified Cyber Intelligence Analyst - 40 CPE
Intermediate Cyber Intelligence Tradecraft - Certified Cyber Intelligence Analyst - 46 CPE
Advanced Cyber Intelligence Tradecraft - Certified Cyber Intelligence Analyst - 52 CPE
Strategic Intelligence Analysis - Intensive online course covering all aspects of the cyber intelligence lifecycle with extended lectures and exercises in analytic writing, structured analytic techniques, stakeholder analysis, intelligence requirements, adversary targeting, threat matrices, F3EAD, STEMPLES Plus, collection management, OPSEC rules, and data provenance.
Critical files to review;
Terms of Use - EULA
Treadstone 71 Cyber Intelligence and CounterIntelligence Short Courses
Starting the first quarter of 2022, we will offer a by-the-piece series of courses covering all topics of Cyber Intelligence and CounterIntelligence Tradecraft. The courses will be offered individually and in bundles with prices discounted on a quantity basis. The courses will be available at our training platform - cyberinteltrainingcenter.com. Students may purchase the courses individually, as bundles, or select upgrade options within each course. The following is an initial list of the new courses:
Training (alphabetical)
Cyber Intelligence
Building a Cyber Threat Intelligence Program
Introduction to Open-Source Intelligence for Maximum Results
Basic Cyber Intelligence Tradecraft Certification
Intermediate Cyber Intelligence Tradecraft Certification
Advanced Cyber Intelligence Tradecraft Certification
Intel 101 – The Cyber Intelligence Lifecycle
Intel 102 - Intelligence for the C-Suite
Intel 103 – The Threat Intelligence Platform Selection Process
Intel 104 – Selecting the Correct Data Feeds for your Threat Intelligence Platform
Intel 105 – Identifying your Stakeholders – Stakeholder Analysis
Intel 106 – Creating and Maintaining Intelligence Requirements (PIRs)
Intel 107 – STEMPLES Plus – Strategic Adversary Analysis
Intel 108 – Adversary Analysis and Threat Matrices
Intel 109 – Building the Right Cyber Intelligence Team
Intel 110 – Operational Security and Personas for Passive Collection
Intel 111 – Elements of an Effective Collection Plan
Intel 112 – Collection Activities, Data Provenance and Validity, Source Credibility and Relevance
Intel 113 – Basic Structured Analytic Techniques
Intel 114 – Advanced Structured Analytic Techniques
Intel 115 – Intro to Critical Thinking
Intel 116 – Advanced Critical Thinking
Intel 117 – Cognitive Bias
Intel 118 – Basic Intelligence Analysis
Intel 119 – Advanced Intelligence Analysis
Intel 120 – Basic Analytic Writing
Intel 121 – Advanced Analytic Writing
Intel 122 – Advanced Topics in Cyber Intelligence
Intel 123 – Advanced Topics – Clandestine Tradecraft Across Social Media
On-Demand Cyber Intelligence Bundles
Strategic Intelligence Analysis, Forecasting, Estimative and Warning Intelligence
Cyber CounterIntelligence
Cyber CounterIntelligence Tradecraft Certification – Influence Operations
CounterIntel 100 – Tools, Memetic Engineering, Fake Data Generation, GANS
CounterIntel 101 – OPSEC and Rules of Engagement
CounterIntel 102 – Personality Typing for Personas – Under Pressure (Myers-Briggs, OCEAN, the Dark Triad)
CounterIntel 103 – Social Media Enrollment and How to Get Removed
CounterIntel 104 – Social Psychology – Denial and Deception
CounterIntel 105 – Persuasion – Socio-Cultural Psychology
CounterIntel 106 – Manipulation, Propaganda, and Fallacies
CounterIntel 107 – Misinformation, Rules for Disinformation, and Narrative Management
CounterIntel 108 – Deception Planning and Influence Operations Management
CounterIntel 109 – Advanced Denial and Deception
CounterIntel 110 – Denial and Deception Tools
CounterIntel 111 – A Framework for Integrating Deception Defenses
CounterIntel 112 – Methods to Disagree – Conversation Manipulation – CointelPro
CounterIntel 113 - Rules for Radicals
CounterIntel 114 – Advanced Topics in CounterIntelligence
On-Demand Cyber CounterIntelligence Bundles
Combined Tradecraft Topics
Cyber Intelligence and Counterintelligence – Jihadist Topics
Cyber Intelligence and Counterintelligence – Targeted Adversaries, the Middle East
Customized Training
Private Training
Subscription Training Service
COGNITIVE WARFARE INTRODUCTION

Aspects of Disinformation

Russian Information Alibi

Hybrid Warfare Putin and Ukraine

Russian Information Warfare
Color Revolutions
Chinese Information Warfare
Iranian Information Warfare
Advanced Topics – Neuro-Linguistic Programming

Cyber Militias / Cyber Foreign Legions
DISINFORMATION, MISINFORMATION, DECEPTION, AND NARRATIVE CONTROL
INFORMATION OPERATIONS
INTELLIGENCE AND COUNTERINTELLIGENCE - CYBERSPACE LIFECYCLE AND OPERATIONS
The courses provide CPE credits and Certificates of Completion. We will keep our existing comprehensive courses while allowing students to select offerings based on timing and need. Follow this link to learn more.
ENROLL in our FREE Overview Course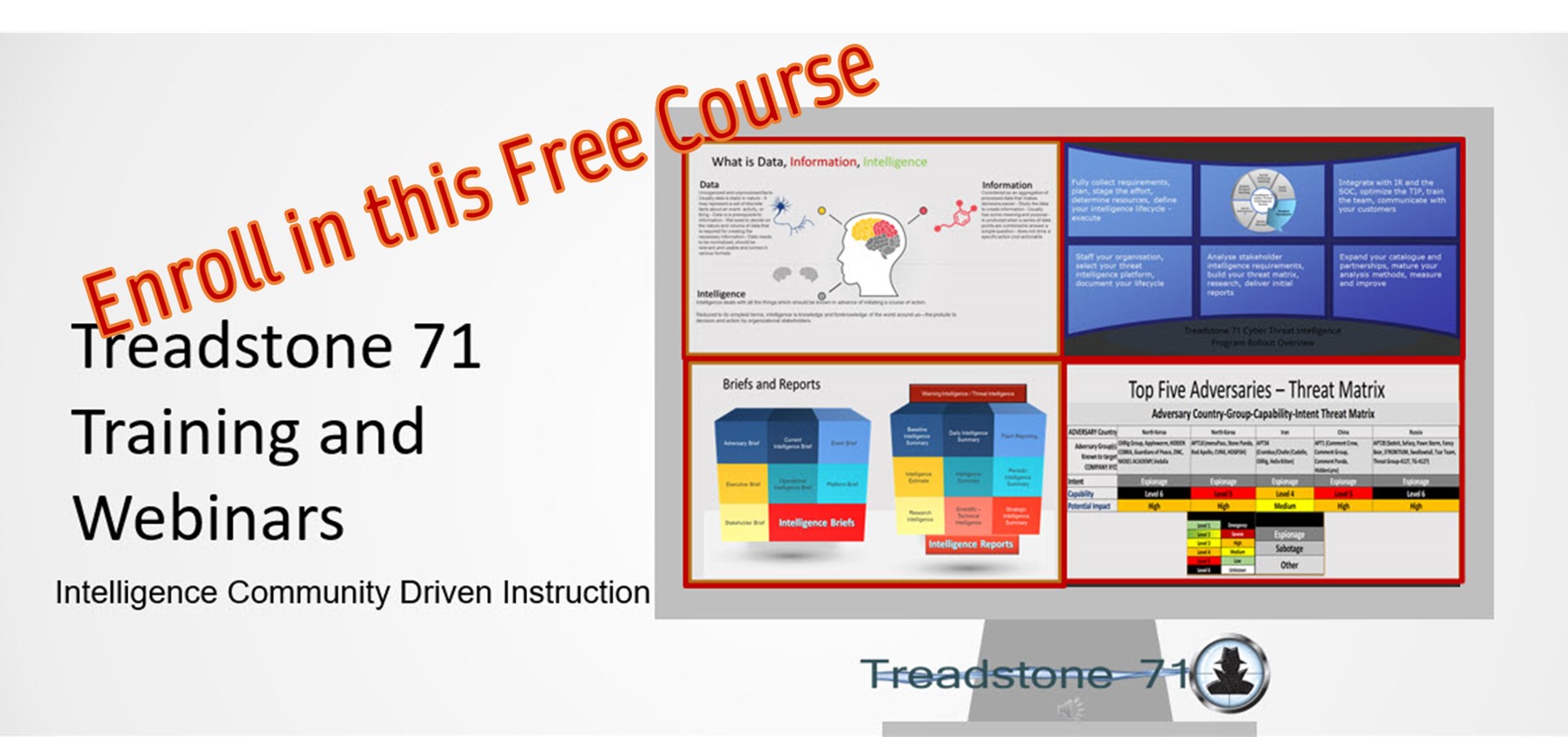 How are courses run?

Weekly lectures are released in a drip method much like attending a weekly class for a lecture. The lecture is accompanied with readings and class assignments.
Are there assignments due every week? NO
Do I have to attend lectures at a specific time? NO
Do I have to watch each lecture each week or can I do a couple of weeks' worth of lectures on my own time? You may do them on your own time.
What if I fall behind due to work requirements? Then we extend the course to accommodate.
How many hours per week should I expect to commit to the course? If we look at the 8-week course, normally about 5-6 hours per week. If we extend the 8-week course to 12 weeks, expect about 3 hours per week.
Are there tests I have to pass? We force you to take short quizzes. The quizzes may be taken up to 10 times to pass. The passing grade is 80%. Most quizzes are 5-6 questions. A couple is 10. They are open book meaning you can use any means from course content to find the answer.
How do I pass the course? Turn in the case studies and work on the reviews of those case studies.
Can I work in a team or in tandem? Certainly. You still need to do the quizzes individually, but the case studies may be a team effort.
Do you normally see people extend the course? Yes. We normally see the 8-week course extend to 10 or 12 weeks. Assume the 12+ week course to extend to 16 or more weeks based on student workload.
What if there is a holiday during the course or if I have a vacation planned? Then we extend the course to accommodate.
What if I have a sickness or hospital stay during the course? Then we extend the course to accommodate.
Is the course heavy on technical requirements? No. If you can use a browser, start and stop a VPN, install desktop software and use MS Office, all you need is curiosity and focus.
Our intent is to ensure you learn. We know everyone has a life and there are work requirements that come up that must be addressed. We want students to stay steady with the lectures and readings to maintain course continuity and flow, but we adjust for you as needed.
All Treadstone 71 courses include:


A minimum of 8 weeks of online access easily extended to 12 or 16

Hands-on case studies using cyber OPSEC methods for passive collection against adversaries

Certified Cyber Intelligence program - Certified Cyber CounterIntelligence program

40 CPEs to 60 CPEs

Courseware and materials (Depending on the course - VPN, Templates, Process Flows, Books (Kindle), Examples, Procedures)

High-quality recorded instruction and

Direct access to the instructor

The Cyber Intelligence Course follows the International Association for Intelligence Education Standards For Intelligence Analyst Initial Training (IAFIE) and the Professional Head of Intelligence Analysis Framework (PHIA).
International Association For Intelligence Education - IAFIE:
I. Introduction to Intelligence II. Critical Thinking III. Analytic Writing IV. Creative Thinking V. Analytic Briefing VI. Structured Analytic Techniques. VII. Analytic Issues VIII. Argument Mapping IX. Case Studies
Professional Head of Intelligence Assessment - PHIA:
As an analyst the framework will:
help you articulate your current skill levels, using language that is recognized across the intelligence assessment community.
help you identify learning and development gaps.
support you if you wish to move between intelligence assessment organisations more easily.
As a line manager/team leader of analysts it will:
help you recruit analysts more effectively.
facilitate career development conversations.
enable the increasing professionalization of your team.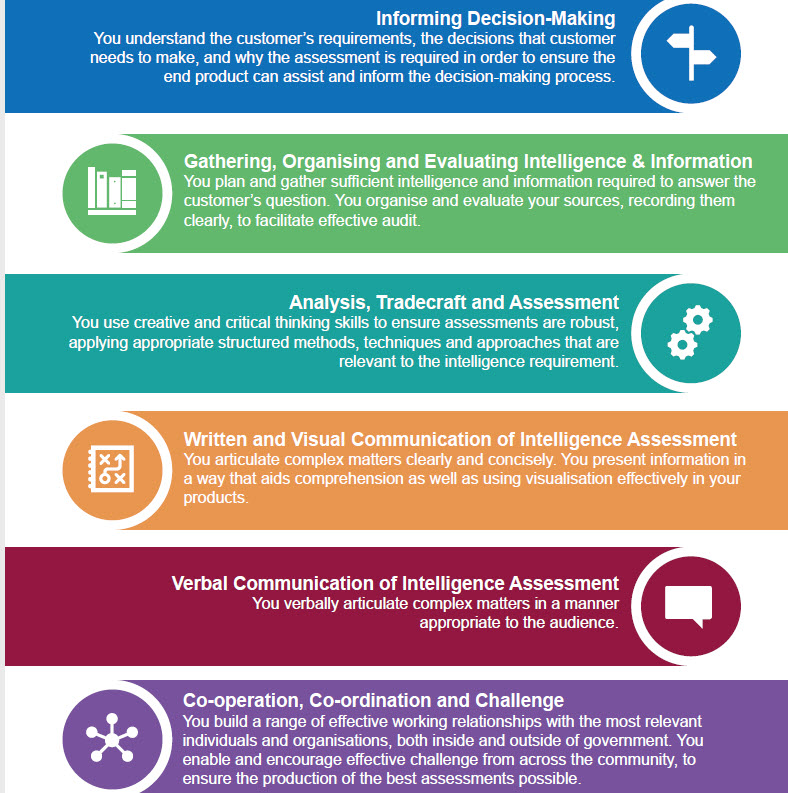 As technology constantly and rapidly changes, so does the way our information is attacked and gathered. Society is being shown, that not only in the cyber realm but in human intelligence gathering, the lengths people will go to obtain information. Treadstone 71 Cyber Intelligence training courses allow professionals on all levels, the ability to learn methods, techniques, and tools; to not only collect information, but to recognize and counter the gathering, analytics, and critical thinking skills used in intelligence and denial and deception. The hands-on case studies, scenarios, and team presentations in our cyber intelligence training courses provide the ability for the extensive comprehension necessary to strengthen both your personal and professional intelligence capabilities.
Treadstone 71 On YouTube On YouTube - Treadstone 71 Blog - Treadstone 71 Main Website
Treadstone 71 courses cover an amazing amount of detail. Intelligence Tradecraft applied to the cyber environment includes the following: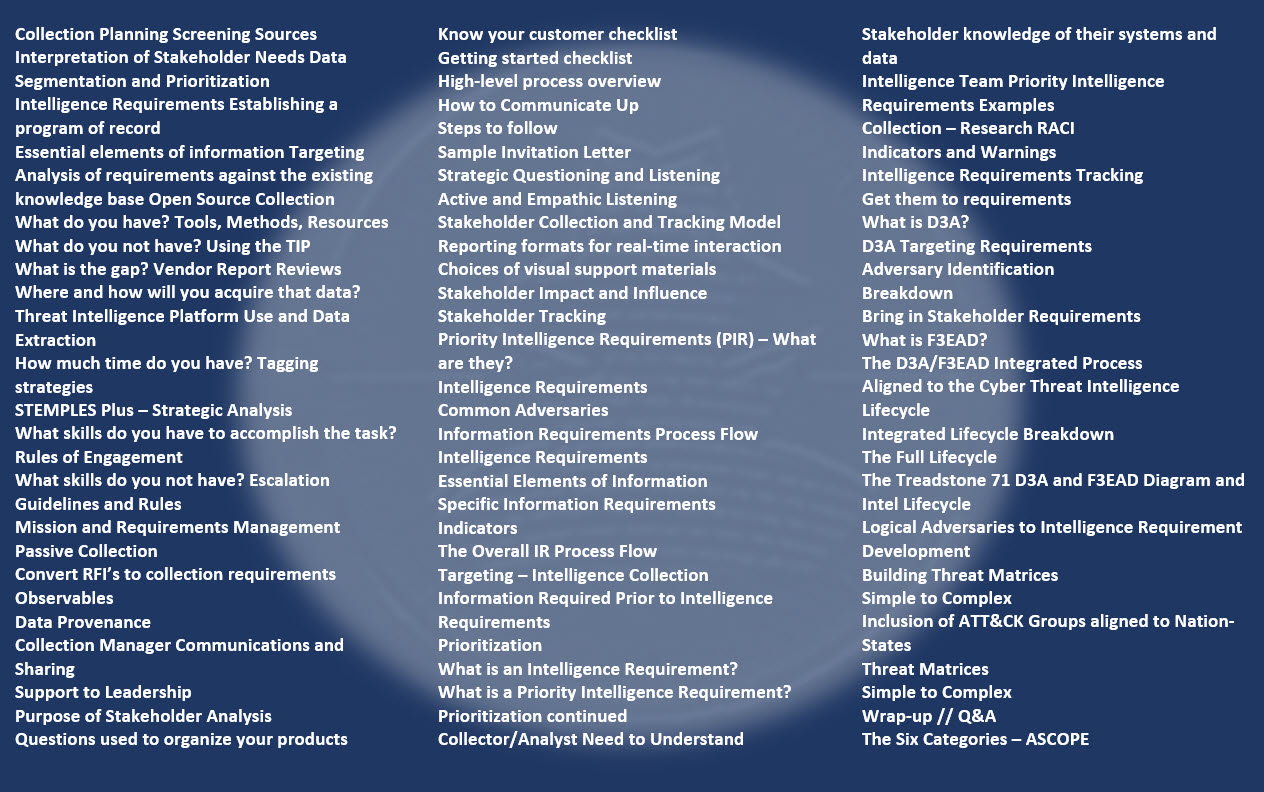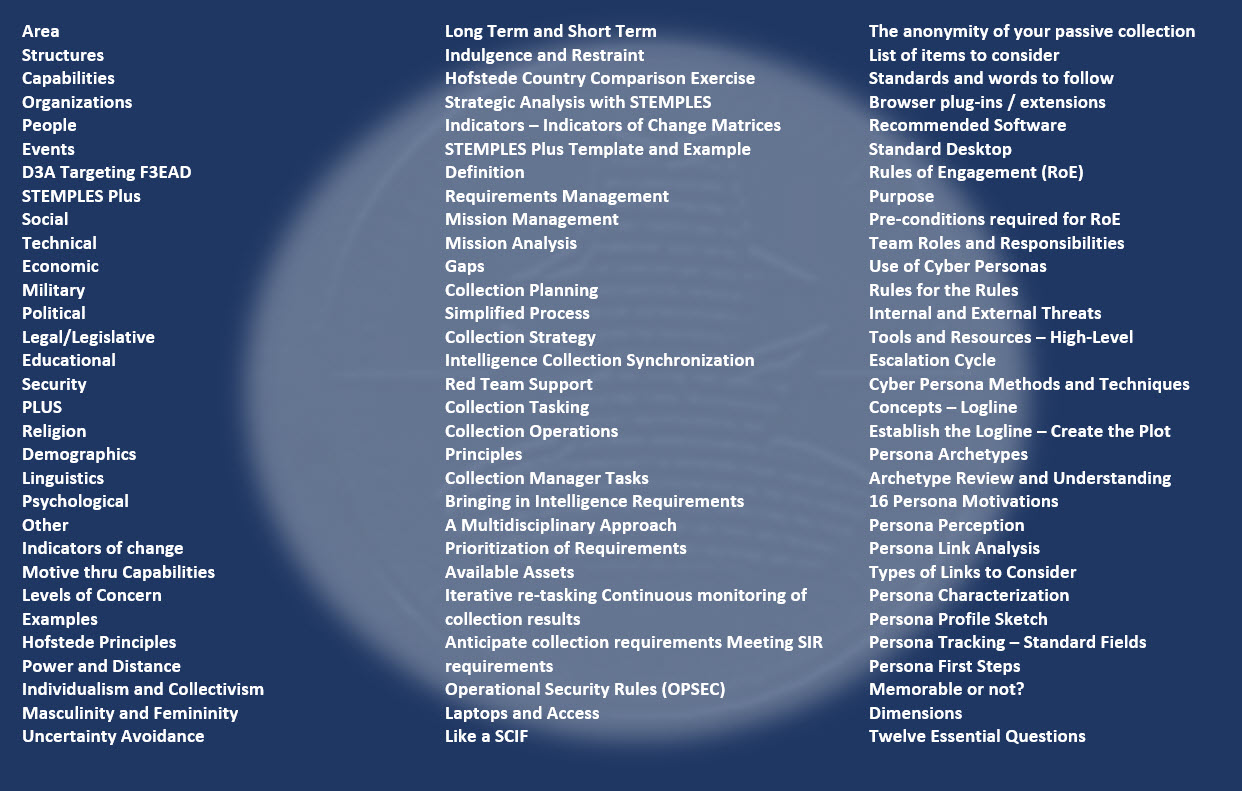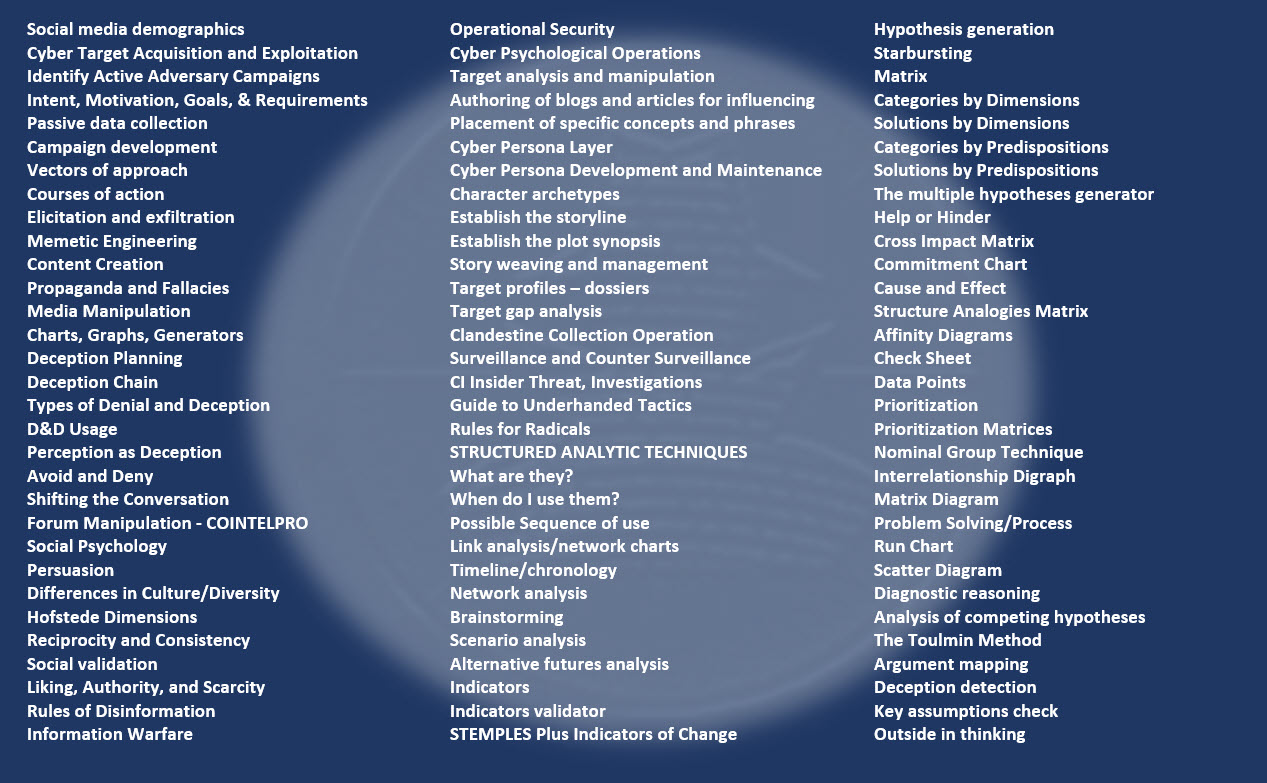 Course Cancellation Policy
If you wish to cancel your course registration, your registration fee will be fully refunded when written notification is received 30 days before class start. After that date, if you need to cancel your registration, please email [email protected] with the reason why you need to cancel. If you have accessed the content (i.e., the class has started) we will be unable to refund your registration fee. Refunds will be issued back to the original payment method used within 5-7 business days (normal Teachable/Stripe processing time) minus platform registration and other fees such as books.