Cyber Intel, CounterIntel, Cognitive and Cyber Warfare, Adversary Cyber Operations Methods, Build Your Cyber Intel Program, Disinformation,
A New Age of Cyber Threats Demands a New Approach. In an era where cyber threats cost companies millions daily, the need for a robust cyber intelligence framework has never been greater. Treadstone 71 isn't just another cybersecurity firm; we empower your organization with actionable intelligence capabilities to anticipate, understand, and counter evolving threats. Learn to do the same through our advanced topic courses! AI-Infused training here at the Cyber Intel Training Center.
Enroll now
Unveil the Future of Intelligence with Treadstone 71's Comprehensive Training Programs
FREE COURSE! Global Resiliency Framework
Embark on an unparalleled intellectual journey with Treadstone 71, your gateway to next-gen intelligence mastery. Whether you are just starting or a seasoned intelligence professional, our Certified Cyber Intelligence Analyst online courses present a wide-ranging spectrum of opportunities steeped in innovation and innovative approaches.
Exclusive Public and Private Training Options
Public Training: Engage in a high-energy, interactive setting to collaborate with peers and industry-leading experts.
Private Training: Unlock tailor-made training pathways tailored meticulously to align with your organization's objectives. For exclusive corporate training solutions, reach out to us directly.
Limited Time Special Subscription
Secure one of only twenty special subscription packages priced at $99,990, offering an expansive range of forty-two courses for up to five hundred students for the duration of the one year subscription. At a cost-effective rate of just $4.71 per course, this package is ideal for enterprises looking to scale their intelligence capabilities.
The Treadstone 71 Training Value Proposition
Immersive In-person and Virtual Classes
Featured In-Person Class:
AI-Infused Cyber Intel and CounterIntel
Other Available Classes: Treadstone 71 is the gold standard for intelligence training, offering community-validated courses modeled after U.S. Intelligence Community standards but uniquely adapted for the complex terrain of cyberspace.
Extensive Course Offerings
Basic Cyber Intelligence Tradecraft – 40 CPE
Intermediate Cyber Intelligence Tradecraft – 46 CPE
Advanced Cyber Intelligence Tradecraft – 52 CPE
Strategic Intelligence Analysis - A rigorous online curriculum covering end-to-end cyber intelligence lifecycle, with enriched exercises in analytic writing, structured techniques, adversarial targeting, and effective collection management.
Advanced Topics in Cyber Intelligence - 100 CPE
Upcoming Specialized Modules
Cyber Intelligence
Cyber Counterintelligence
COGNITIVE WARFARE INTRODUCTION
Advanced Topics in Cyber Intelligence
Deep-Dive Topics
Explore nuanced topics such as:
Disinformation Strategies
Russian, Chinese, and Iranian Influence Operations
Neuro-Linguistic Programming & Information Warfare
Deception & Narrative Control in Cyber Militias
Information Operations Frameworks
Complete Lifecycle & Operations of Intelligence and Counterintelligence in Cyberspace
Our course material is accompanied by CPE credits and Certificates of Completion, ensuring a tailored learning experience that works around your schedule and commitments.
Flexible Course Management
Treadstone 71 provides an adaptive, learner-centric approach, encompassing weekly lectures, interactive quizzes, and real-world case studies. We designed our training to accommodate disruptions like holidays, work obligations, and unexpected life events.
Subscription Services: The Beacon Series
Unlock an in-depth understanding of intelligence with our Beacon Series, featuring modules on analytic rigor, advanced writing techniques, mastering cognitive attention, weaponizing psychological insights, and training as a cognitive warfighter.
Join Treadstone 71 and Redefine Your Intelligence Future
Discover what sets Treadstone 71 apart—meticulously designed courses that span the full breadth of the cyber intelligence lifecycle, practical templates to kick-start your program, and specialized training in strategic, operational, and tactical intelligence, complete with hands-on case studies.
Seize this rare opportunity. Enroll in our FREE Overview Course today and begin your journey toward becoming an intelligence expert of the future.
Treadstone 71—Where Intelligence Meets Innovation
Embark on a transformative learning experience like never before. Your future in intelligence starts here.
All Treadstone 71 courses include:


A minimum of 8 weeks of online access easily extended to 12 or 16

Hands-on case studies using cyber OPSEC methods for passive collection against adversaries

Certified Cyber Intelligence program - Certified Cyber CounterIntelligence program

40 CPEs to 60 CPEs

Courseware and materials (Depending on the course - VPN, Templates, Process Flows, Books (Kindle), Examples, Procedures)

High-quality recorded instruction and

Direct access to the instructor

The Cyber Intelligence Course follows the International Association for Intelligence Education Standards For Intelligence Analyst Initial Training (IAFIE) and the Professional Head of Intelligence Analysis Framework (PHIA).
International Association For Intelligence Education - IAFIE:
I. Introduction to Intelligence II. Critical Thinking III. Analytic Writing IV. Creative Thinking V. Analytic Briefing VI. Structured Analytic Techniques. VII. Analytic Issues VIII. Argument Mapping IX. Case Studies
Professional Head of Intelligence Assessment - PHIA:
As an analyst the framework will:
help you articulate your current skill levels, using language that is recognized across the intelligence assessment community.
help you identify learning and development gaps.
support you if you wish to move between intelligence assessment organisations more easily.
As a line manager/team leader of analysts it will:
help you recruit analysts more effectively.
facilitate career development conversations.
enable the increasing professionalization of your team.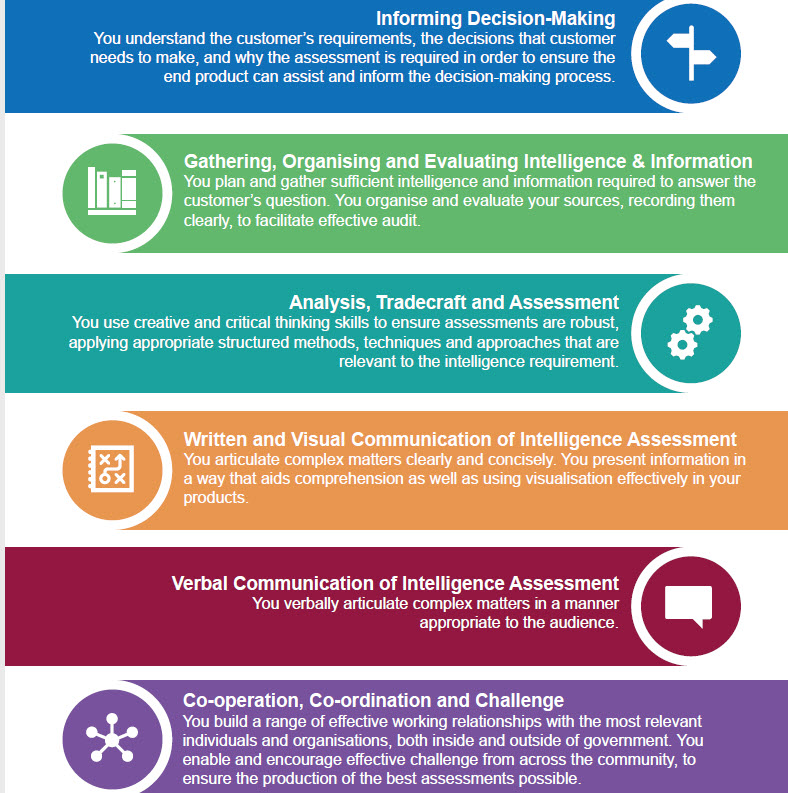 As technology constantly and rapidly changes, so does the way our information is attacked and gathered. Society is being shown, that not only in the cyber realm but in human intelligence gathering, the lengths people will go to obtain information. Treadstone 71 Cyber Intelligence training courses allow professionals on all levels, the ability to learn methods, techniques, and tools; to not only collect information, but to recognize and counter the gathering, analytics, and critical thinking skills used in intelligence and denial and deception. The hands-on case studies, scenarios, and team presentations in our cyber intelligence training courses provide the ability for the extensive comprehension necessary to strengthen both your personal and professional intelligence capabilities.
Treadstone 71 On YouTube On YouTube - Treadstone 71 Blog - Treadstone 71 Main Website
Treadstone 71 courses cover an amazing amount of detail. Intelligence Tradecraft applied to the cyber environment includes the following: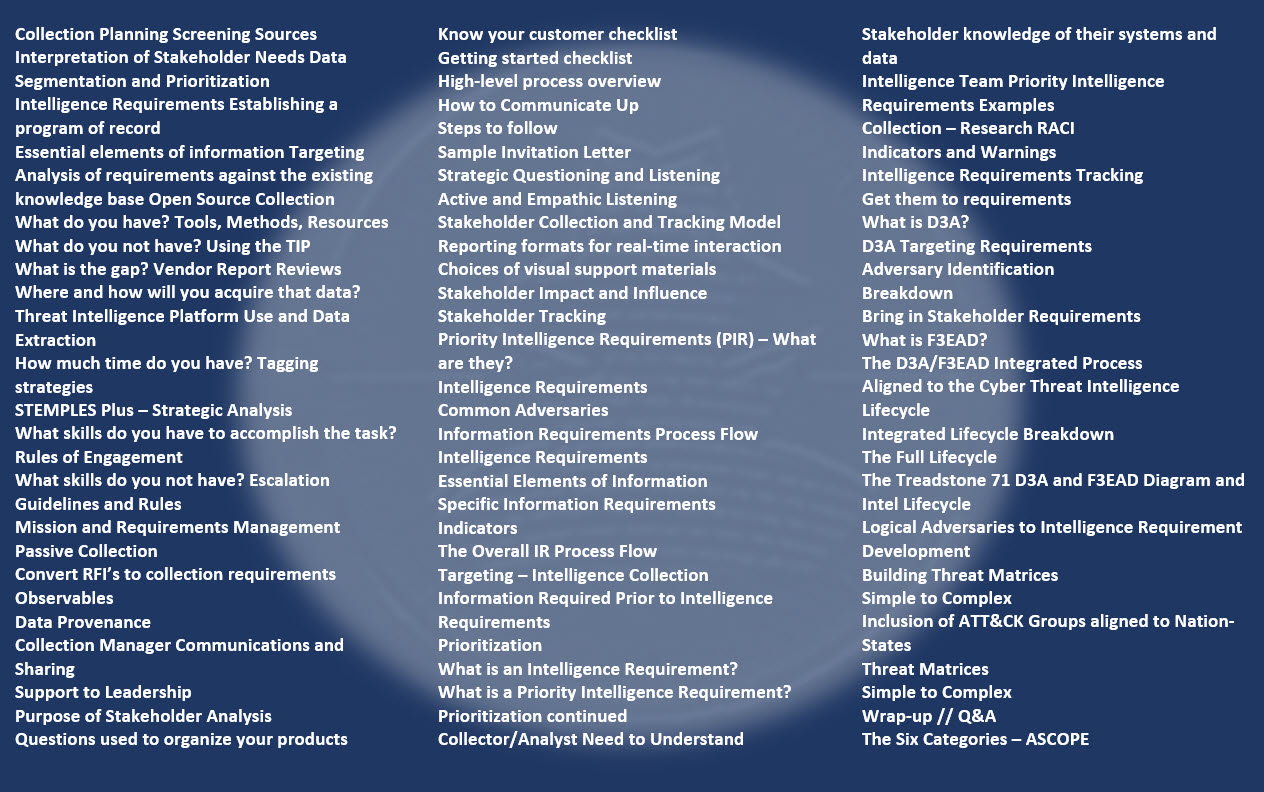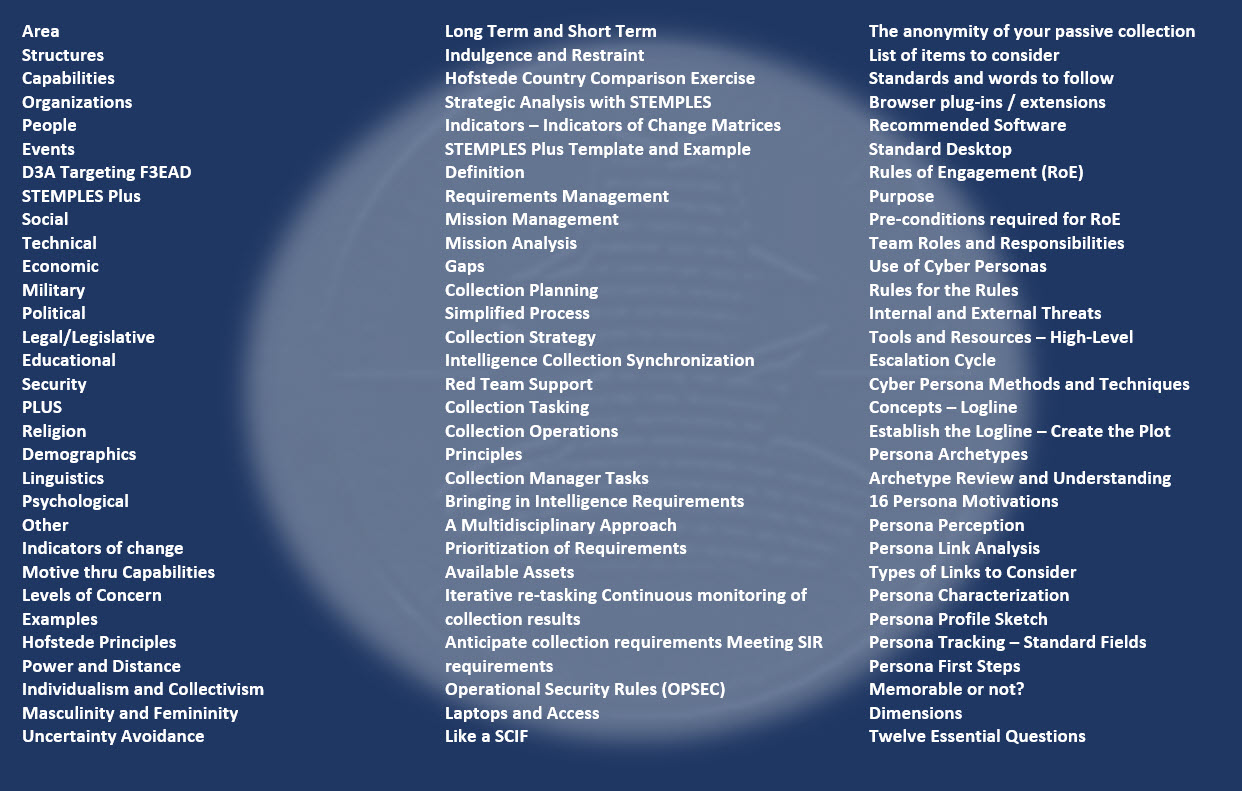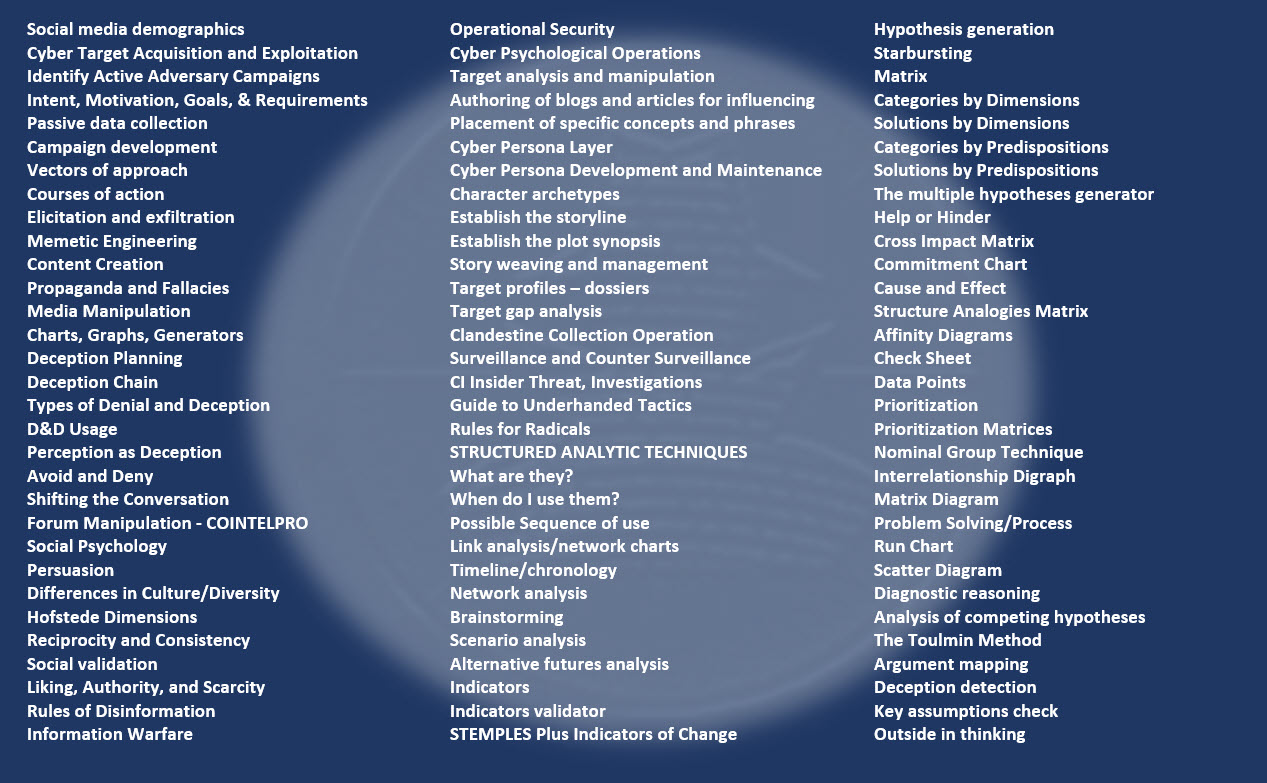 Course Cancellation Policy
If you wish to cancel your course registration, your registration fee will be fully refunded when written notification is received 30 days before class start. After that date, if you need to cancel your registration, please email [email protected] with the reason why you need to cancel. If you have accessed the content (i.e., the class has started) we will be unable to refund your registration fee. Refunds will be issued back to the original payment method used within 5-7 business days (normal Teachable/Stripe processing time) minus platform registration and other fees such as books.