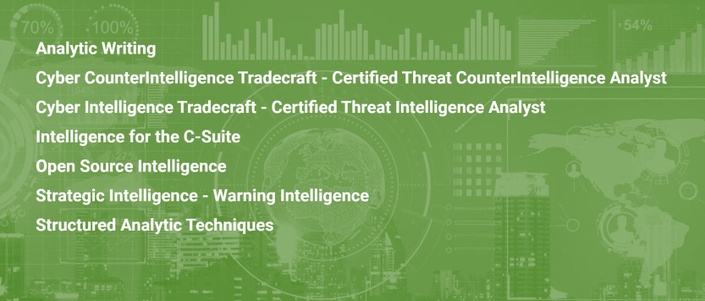 6 2019 - Cyber Intelligence Tradecraft Certification - November 16 - January 18 (2020) - Certified Threat Intelligence Analyst
Intelligence Tradecraft
Watch Promo
The Certified Threat Intelligence Analyst - Cyber Intelligence Tradecraft training course follows the iterative processes of the intelligence lifecycle while covering non-inclusively. This course follows the International Association for Intelligence Education Standards for Intelligence Analyst Initial Training incorporating intelligence community member validated content and hands-on experience in the cyber environment since 2004.
I. Introduction to Intelligence
II. Critical Thinking
III. Analytic Writing
IV. Creative Thinking
V. Analytic Briefing
VI. Structured Analytic Techniques.
VII. Analytic Issues
VIII. Argument Mapping
IX. Case Studies
This course is unique and innovative providing students with academic understanding, live case studies, and a course that drives practical over memorization for a test. The course is likened to an apprenticeship during an intensive 5-day training course covering the intelligence lifecycle.
Anonymity and Passive Persona setup
Collection Methods and Techniques
Collection Planning, IRs/PIRs/EEIs/Indicators/SIRs
Collection Process Flow
Collection (OSINT) Tools and Targeting
Threat Intelligence
Most likely Threat Actors
Hunch.ly
Use of Maltego – overview
OPSEC – VPNs, Buscador, Authentic8 Silo
OSINT Browser – Oryon C Portable
Proxy Access – the DarkNet
Demonstration – Recorded Future / Intel471
Burn phone setup and use (US Only)
Open Source Intelligence OSINT
Production Methods
Structured Analytic Techniques – Their use
Adversary Denial and Deception
Source Credibility and Relevance
Source Validation
Denial and Deception
Confidence Levels
Types of evidence
Production Management
Critical and Creative Thinking
Cognitive Bias
Glossary and Taxonomy
What Intelligence Can and Cannot Do
Use of Mitre ATT&CK in Analysis
ATT&CK in examining patterns and trends
ATT&CK in Adversary tendencies
Estimation and Forecasting
Campaign analysis
Types and Methods of Analysis
Synthesis and Fusion
Analysis of Competing Hypothesis
Inductive/Abductive/Deductive Reasoning
Stakeholder Identification, and Analysis
Analytic Writing, BLUF, AIMS
Forecasting in your writing
STEMPLES Plus
Indicators of Change
Argument Mapping
Types of Reports
Product Line Mapping
Report Serialization, and Dissemination
Live Case Studies – Class briefs
Lecture, Hands-on, Apprenticeship, in-class exercises, student presentations covering structured analytic techniques, analysis of competing hypotheses, analytic writing and deliver, analytic products, templates, course material—40 CPEs
ONLINE - 8 WEEKS
IN-PERSON - 5 DAYS
We also have a different module that can be included depending on the audience. This module is geared towards IR and SOC staff:
Intro to Cyber Intelligence
What does intelligence mean to the SOC?
What does intelligence mean to Incident Response?
A day in the life of an intelligence analyst
Intelligence Lifecycle
Define what your group does
Define how your group uses intelligence
Define how your group produces intelligence
Mitre ATT&CK
Tactics
Techniques
Tools
ATT&CK Navigator
ATT&CK Examples
Chronology and Timelines
ATT&CK Chronology
Comparing past and present
Comparing and contrasting different threat groups
Estimative ATT&CK
Adversary Targeting – Threat Profiling - Threat Matrices
Primary Threats
Nation-state
Foreign intelligence services
Military cyber units
Threat groups and proxies
Cyber criminals
Others
Adversary skills
Adversary maliciousness
Interest in your organization
Motivation – objective – conditions
Opportunity
Triggers
Course(s) of action
Capabilities
Level of automation
Potential impact
Threat Hunting
Purpose and Scope
Hunt level maturity
Threat Hunting Lifecycle
Lifecycle and Maturity Level matrix
Patrolling
Stalking
Searching, clustering, grouping, stack counting
Process flow
Entry point
Plan the hunt
Execute the hunt
Malicious or not?
Document the performed steps
Document the findings
Prepare the report
Hunt Key Metrics
Establish priorities Iterative Approaches and Feedback Loop
RACIs – who does what
Tactical Intelligence Risk
Situational Awareness
Emerging threats
Coordination with other groups
Likely adversary courses of action
Intake Forms
Request for Information (RFI)
Responding to RFIs
Incident Intelligence
Interfacing with the Cyber Threat Intelligence (CTI) teams
What do we need from CTI?
What can CTI do and what can they not do
Indicators Cyber DECIDE, DETECT, DELIVER and ASSESS (D3A) framework
Specific information requirements Cyber FIND, FIX, FINISH, EXPLOIT, ANALYZE and DISSEMINATE (F3EAD) methodology
Crown jewel information
Checklist questions
Possible intelligence requirements (non-prioritized)The first ONLINE - Cyber Intelligence Tradecraft Certified Threat Intelligence Analyst from Treadstone 71.
Registration starts runs periodically as defined on the main Cyber Intelligence Training Center registration page.
The online courses are instructor video and audio recorded with periodic direct interaction with the instructor via online web meetings. The instructor will have standard office time for question and answer as well as regular access via class email and other messaging options.

Validated and registered students will receive login and preparation information 1 week prior to class start. Prospective students must send an email to [email protected] from a corporate account to validate course eligibility before registration. (Corporate accounts are not Gmail, Hotmail, Yahoo, Mail, Hushmail, Protonmail, and the like). Treadstone 71 reserves the right to restrict course registration based upon certain risk factors.

Students who complete the course will be certified as Cyber Intelligence Tradecraft Professional. 40 CPEs awarded for the course. This course is highly specialized following intelligence community tradecraft. You won't get this at SANS. You won't get this anywhere but from Treadstone 71. If you want purely technical, then this is not the course for you. If you want tradecraft that lays the foundation for a solid program, education that creates a lasting impact, then this is the course for you.
Course books and manuals will be provided to students upon accepted enrollment. This course follows traditional intelligence community tradecraft. Treadstone 71 has been teaching cyber intelligence courses in various forms for six years. From academic settings and corporate environments to government facilities. Our customers include some of the largest firms in the world many of whom are part of critical infrastructures recognizing the need to learn how to create intelligence (www.treadstone71.com). We support our training with onsite consulting services that teach you how to create a sustainable program aligned to stakeholders. Ultimately, we teach you what most vendors cannot or will not – how to fish for yourself.
Course Fee, Course Lab, and Materials Fee (includes books, templates, structured techniques application, etc.).
This course combines lecture, research, and hands-on team assignments. Students are best served using a PC but a MAC will do (a virtual machine running windows on the Mac is best if you only have a Mac).
How is this course different from the current Treadstone 71 Cyber Intelligence course?
This course provides definitive sections along the intelligence lifecycle that are in-depth. Students are required to demonstrate understanding and use of collection methods using defined targets and target case studies, understanding and applying analytic techniques, when and how to use analytic techniques and analytic types. Students are presented case studies for analysis, required to use tradecraft methods, and provide written reports in standard analytic format. Students are also required to orally present their deliverables to the class. You will leave this course with the tools, methods, and understanding necessary to enhance your intelligence program.
"The Cyber Intelligence Training delivered and created by Jeff Bardin will add rapid returns to both Cyber Intel Analysts, and your Security Operations. This very thorough class adequately prepares the student for your Cyber Intelligence function. This class starts with the history of intelligence as a tradecraft and the evolution to the digital corporate world. Along the way, each student receives quality instruction and hands-on experience with today's OSINT tools. This is necessary for anyone new to Cyber Intelligence and complimentary to any Security Operations within your enterprise. This class provides the student with the resources and fundamentals needed to establish cyber intelligence as a force as both a proactive offensive step and a counter intelligence-contributing arm of your larger team."
"The class was very detail orientated with a strong focus on the work of Cyber threats and how to better secure your assets against potential attacks. For most scenarios, we went through he had an open source tool, or the link to a paid version, to monitor or prevent the attacks from occurring. He was able to answer each and every question asked with specific details, and then some. I would sign up again right away for any other classes offered by Jeff."
"Fantastic class that gets to the foundational aspects of traditional tradecraft. We studied hard examining recent attack campaigns. The analysis training prepared me for real world efforts. Have to say this is one of the best classes I have ever taken having taken many from SANS. SANS does not compare. They are more of a class mill today. The Treadstone 71 course material is unique, focused, and timely."
"The Cyber Intelligence training offered by Treadstone 71 is definitely an outstanding course and I recommend it for any organization looking to implement an intelligence capability. Jeff Bardin is extremely knowledgeable in the intelligence tradecraft and applies it to the cyber realm in a way that is understandable, exciting to learn and makes it easy to achieve "quick wins" in the organization after completing his class. Jeff provided the class with a multitude of tools, templates, and documents that can immediately be used by any organization focused on intelligence collection and analysis. Jeff arrived well prepared to teach the course and one of the most impressive aspects of the class was that he presented the material in a way that displayed his personal knowledge and experience in the field rather than relying solely on book material. We intend to continue leveraging Jeff's services as we mature our cyber intelligence capability and highly recommend Treadstone71's services to any organization."
"This is one of the best, if not the best, Cyber Threat Intelligence training course I've attended."

"This course was excellent. I was concerned coming into it that I would already know all the course material (I have been doing this sort of work for 15 years, specifically the type of work this course covered). As it turns out, it was a good reminder of what I should be doing to improve structure and rigor, and provided good tools, some of which I had not seen before. If I was new to this field or looking for a good insight into how Intelligence should work (i.e.: most of the rest of the class), I believe this would have provided even more value. I have already recommended it to a couple of my former colleagues in this line of business and would happily recommend it for future use by ########."
Course material is not for resale or commercial use outside the end user license agreement. Course material may not be used for competitive purposes.
Your Instructor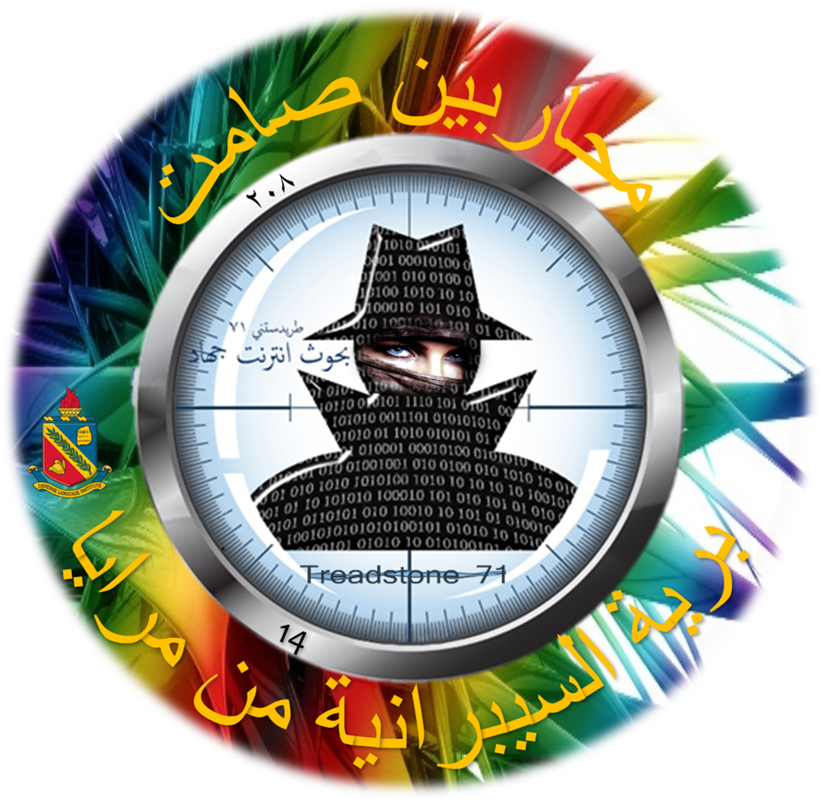 Former adjunct professor of Cyber Intelligence, Counterintelligence, and Cybercrime (Utica College) and Information Security Risk Management (Clark University). Experienced in cyber intelligence lifecycle services and support, cyber counterintelligence services and analysis, active defense and cyber operations. Commercially teach Cyber Intelligence (Anonymity, Sockpuppets, Cyber Collection, Clandestine Cyber HUMINT, Socio-Cultural Aspects of Intelligence, Lifecycle, Critical Thinking, Cognitive Bias, Methods and Types of Analysis and Methods, Structured Analytic Techniques, Analytic Writing, BLUF/AIMS Delivery, and Dissemination), Jihadist Online Recruitment Methods, cyber influence operations, high-value target development, deception planning, deception operations management, Middle Eastern Cyber Warfare Doctrine, adversary dossier development and social-cultural analysis, jihadist training and gaming as a method of training, information and intelligence sharing, threat intelligence platform selection, non-inclusively.
Jeff is the Chief Intelligence Officer for Treadstone 71 with clients on 4 continents. In 2007, he was awarded the RSA Conference award for Excellence in the Field of Security Practices. His team also won the 2007 SC Magazine Award – Best Security Team. Jeff sits or has sat on the Board of Boston Infragard, Content Raven, Journal of Law and Cyber Warfare, and Wisegate and was a founding member of the Cloud Security Alliance. Jeff served in the USAF as a cryptologic linguist and in the US Army / US Army National Guard as an armor officer, armored scout platoon leader.
Treadstone 71:
Founded the company in 2002 with the specific focus at the time of information security. In 2004, we started creating cyber personas and infiltrating al-Qaeda sites collecting information and sharing it with various US-based organizations. In 2009-10, we started teaching Cyber Intelligence, Cyber CounterIntelligence and Cyber Crime courses at the Master's level at Utica College where we established the intelligence program. After three years of teaching at the academic level, we switched to the commercial space honing the courses to CIA/DIA style tradecraft as aligned to the cyber environment using the skills acquired in 2004. Since that time, we have continued to update the courses using real-world case studies as part of the training.
Treadstone 71 kept the company purposely small and now offer the training courses as well as Cyber Threat Intelligence maturity assessments, strategic and program planning, as well as active research, collection, and reporting. We also perform Threat Intel Platform assessments, selection, and rollout activities for clients. We have clients in the US, EU, Australia, and Asia with active proposals in the Middle East. My personal background is as an Arabic Linguist (USAF / NSA), Russian Linguist, and CISO financial services, government contracts, insurance, and cybersecurity vendors. We have also acted as a critical resource for government CISOs in the past authoring their agency strategic plans, program plans and responding to Congressional inquiries on their behalf.
He has BA in Special Studies - Middle East Studies & Language from Trinity College and an MS in Information Assurance from Norwich University (Cum Laude). Jeff also attended the Middlebury College Language School for additional language training. Mr. Bardin also spent two+ years studying Russian history, literature, political systems, and language. Mr. Bardin has lived and worked in the Mediterranean area and the Kingdom of Saudi Arabia. Mr. Bardin has also appeared on CNN, CBS News Live, FoxNews, BBCRadio, i24News, and several other news outlets and has contributed bylines to Business Insider non-inclusively.
Jeff has spoken at RSA (highly rated speaker), NATO CyCon (Estonia), the US Naval Academy, the Air Force Institute of Technology, the Johns Hopkins Research Labs, Hacker Halted, Malaysian Cyberjaya, Secureworld Expo, Hacktivity (Budapest), Prague, London (RSA), ISSA, Security Camp (Cairo), and several other conferences and organizations. Mr. Bardin has authored books and contributed chapters to several other books most recently Current and Emerging Trends in Cyber Operations from George Washington University. Edited and provided content for Understanding Computers: Today and Tomorrow by Deborah Morley, Charles S Parker - 11th edition (March 2006 release). Reviewer for Building an Information Security Risk Management Program from the Ground Up (Evan Wheeler), Author Chapter 33 Computer Information Security Handbook 5th Edition - SAN Security. Author Chapter on Satellite Security - Computer Information Security Handbook 6th Edition. Author - The Illusion of Due Diligence - Notes from the CISO Underground (April 2010 release).
We have taught classes to and/or worked with/for:
AIB, American Express, Capital One, Commonwealth Bank, Bank of America, ING, NCSC NL, Defense Security Services, PNY, Dell SecureWorks, HPE Security, EclecticIQ, Darkmatter (AE), General Electric, General Motors, PNC, Sony, Goldman Sachs, NASA, DoD, East West Bank, Naval Air Warfare Center, VISA, Federal Reserve Bank, USBank, Wyndham Capital, Egyptian Government, DNB Norway, Euroclear, Malaysian Cyberjaya, People's United Bank, Baupost Group, Bank of North Carolina, Fidelity Investments, Citi, Swift, Citigroup, T. Rowe Price, Wells Fargo, Discover, Blackknight Financial Services, Intercontinental Exchange (ICE), Citizens Financial Group, Scottrade, MetLife, NY Life, Synchrony Financial, TD Ameritrade, National Reconnaissance Office, FBI, OSI, Stellar Solutions, Lockheed Martin, Harvard Pilgrim, State of Florida, Deloitte, Ernst and Young, Mitsubishi, Tower Research, Geller & Company, KeyBank, Fannie Mae, BB&T, Aviation ISAC, JP Morgan Chase, Barclays, Nomura International, ING, Finance CERT Norway, BBVA, Santander, Bank of America, Equifax, BNY Mellon, OCC, Verizon, Vantiv, Bridgewater Associates, Bank of Canada, Credit Suisse, HSBC, International Exchange, Vista Equity Partners, Aetna, Betaalvereniging Nederland, BNP Paribas, Ministerie van Veiligheid en Justitie, Nationaal Coördinator Terrorismebestrijding en Veiligheid, Directie Cyber Security – Nationaal Cyber Security Centrumm, Symantec, Intel471, RecordedFuture, and several members of Flashpoint, etc. non-inclusively).
Focus on targeted research of adversaries building in-depth dossiers recording methods, tactics, techniques, procedures, known associates, memberships and psychological profiles. Author Current, Research/Foundational, PESTELI, deception planning and operations, psychological operations, and Estimative Intelligence reports. Create profiles of high value targets including 'know your customer' profiles delivering assessments and gaps in protections with recommendations and opportunities.
Strategic Intelligence Program builds from vision, mission, guiding principles, goals, objectives, 36-month plans, policies, procedures, process flows, SOPs, KPIs, CSFs, training and awareness programs for intelligence. Building internal intelligence community programs from technical and tactical to operational and strategic including physical, competitive, business, and cyber.
Course Curriculum
Lecture 1 - Week 1
Available in days
days after you enroll
Lecture 2 - Week 2
Available in days
days after you enroll
Lecture 3 - Week 3
Available in days
days after you enroll
Frequently Asked Questions
How does the course run?
The Cyber Intelligence Tradecraft Certification online course is geared to accommodate times for students globally. Meaning, office hours for discussions, questions/answers will vary weekly from 6AM Eastern Time to 6PM to 9PM (as examples) Eastern time based upon locations of enrolled students. Office hours will not be the same weekly unless all students happen to be from a specific time zone (unlikely this will happen). Recorded lectures will be available weekly for students to review. Lectures are followed by individual and team exercises that focus on Case Studies and online research cover the 8 weeks of the course. Normal time spent per week is from 5-6 hours. The office hours are live and not required but available should students have questions. Students may also contact the instructor directly via phone, text, Cyphr, Wickr, Signal, etc., should they have out of band questions. In addition, there will be an online forum for online Q&A. The online course is exactly the same as the face to face minus the travel. Same content, same books, etc. We just start and finish on Saturday. Office Hours: • These are much like college office hours for Q&A. We may hold a lecture or 2 that is live and need-based upon student requests. We intend to keep office hours at no more than 60 minutes maximum. • Since the lectures will be available online, students will have an opportunity to review them throughout the course. • The team delivers, and it is the expectation that all on the team will actively participate. We are considering team ratings.
How long do I have access to the course?
The course runs for 8 weeks from the published start date.
COURSE EULA
Course EULA - REQUIRED Treadstone 71 LLC ("T71") IS WILLING TO LICENSE THE T71 Cyber Intelligence Training (COLLECTIVELY, "COURSE") UPON THE CONDITION THAT YOU ACCEPT ALL OF THE TERMS OF THIS NON-COMMERCIAL VERSION LICENSE AGREEMENT ("AGREEMENT"). PLEASE READ THESE TERMS CAREFULLY BEFORE MOVING AHEAD WITH THIS COURSE. BY INSTALLING OR USING THE INFORMATION ON THE PROVIDED USB, YOU ARE CONSENTING TO BE BOUND BY AND ARE BECOMING A PARTY TO THIS AGREEMENT. IF YOU DO NOT AGREE TO ALL OF THE TERMS OF THIS AGREEMENT, T71 IS UNWILLING TO LICENSE THE COURSE TO YOU ("YOU"), AND YOU SHOULD NOT INSTALL OR USE THE COURSE. NON-COMMERCIAL VERSION LICENSE To qualify for a Non-Commercial Version License, You must: (1) use the Course for non-commercial purposes as defined herein. The term "Non-Commercial Version License" is limited to using the concepts, methods, processes, procedures, and plans for internal organizational use. Entities are not allowed to teach this course or semblance of this course without express permission from Treadstone 71 LLC. Organizations are not allowed to deliver commercial services based upon this course that compete directly or indirectly with Treadtone 71 LLC. If You do not qualify for a Non-Commercial Version License, then you should discontinue the COURSE. GRANT OF LICENSE Provided that you qualify for a Non-Commercial Version License as specified above, and subject to the terms and conditions contained herein, T71 hereby grants You, an end user, a personal, non-transferable, non-exclusive, non-sublicensable license to install and use the COURSE, free of charge, for non-commercial purposes only. In addition, subject to the terms and conditions contained herein and provided that You meet the requirement specified above for an Non-Commercial Version License, T71 hereby grants to You, an end user, a non-transferable, non-exclusive, non-sublicensable license, free of charge, to (1) use the COURSE for the intent of building or expanding a cyber intelligence program within your organization. For the avoidance of doubt, the following are considered examples of commercial uses of the COURSE: (1) use for financial gain, personal or otherwise; (2) use by government agencies without recompense to T71; (3) use by a telecommunication or Internet service provider company with recompense to T71; (4) use in connection with administering a commercial web site; (5) use in connection with the provision of professional service for which you or your company or organization are compensated (including paid administration); (6) bundling or integrating the COURSE with any other product, service, or another COURSE product for commercial use. (7) teaching this course in a seminar, online, commercial or academic setting. T71 and/or its licensors reserve all rights not expressly granted to You herein. This license is not a sale of the COURSE or any copy of the COURSE. The COURSE contains valuable trade secrets of T71 and its licensors. All worldwide ownership of and all rights, titles and interests in and to the COURSE, and all copies and portions of the COURSE, including without limitation, all intellectual property rights therein and thereto, are and will remain exclusively with T71. The COURSE is protected, among other ways, by the copyright laws of the United States and international copyright treaties. All rights not expressly granted herein are retained by T71 and its licensors. USE RESTRICTIONS You may not: (i) use the COURSE, except under the terms listed above; (ii) create derivative works based on the COURSE (e.g. incorporating the COURSE in a commercial product or service without a proper license). (iii) copy the COURSE (iv) rent, lease, sublicense, convey, distribute or otherwise transfer rights to the COURSE; (v) remove any product identification, copyright, proprietary notices or labels from the COURSE; or (vii) use any T71 trademarks in any manner other than their presence within Your copy of the COURSE without written permission of T71. Any and all copies made by You as permitted hereunder must contain all of the original COURSE's copyright, trademark and other proprietary notices and marks. MAINTENANCE, SUPPORT AND UPDATES T71 is under no obligation to maintain or support or update the COURSE in any way, or to provide updates or error corrections CONFIDENTIALITY The COURSE and any license authorization codes are confidential and proprietary information of T71. You agree to take adequate steps to protect the COURSE and any license authorization codes, if any, from unauthorized disclosure or use. You agree that You will not disclose the COURSE, in any form, to any third party, except as otherwise provided herein. WARRANTY T71 EXPRESSLY DISCLAIMS ALL WARRANTIES, WHETHER EXPRESS, IMPLIED OR STATUTORY, INCLUDING, WITHOUT LIMITATION, THE IMPLIED WARRANTIES OF MERCHANTABILITY, OF FITNESS FOR A PARTICULAR PURPOSE, NONINFRINGEMENT OF THIRD PARTY INTELLECTUAL PROPERTY RIGHTS, AND ANY WARRANTY THAT MAY ARISE BY REASON OF TRADE USAGE, CUSTOM, OR COURSE OF DEALING. WITHOUT LIMITING THE FOREGOING, YOU ACKNOWLEDGE THAT THE COURSE IS PROVIDED "AS IS" AND THAT T71 DOES NOT WARRANT THAT THE COURSE WILL RUN UNINTERRUPTED OR ERROR FREE NOR THAT THE COURSE WILL OPERATE WITH HARDWARE AND/OR COURSE NOT PROVIDED BY T71. THIS DISCLAIMER OF WARRANTY CONSTITUTES AN ESSENTIAL PART OF THE AGREEMENT. SOME STATES DO NOT ALLOW THE EXCLUSION OF IMPLIED WARRANTIES, SO THE ABOVE EXCLUSION MAY NOT APPLY TO YOU, AND YOU MAY HAVE OTHER RIGHTS, WHICH VARY FROM STATE TO STATE. TERMINATION This Agreement will terminate immediately and automatically without notice if You breach any provision in this Agreement. Upon termination You will remove all copies of the COURSE or any part of the COURSE from any and all computer storage devices and destroy the COURSE. At T71's request, You or your authorized signatory, will certify in writing to T71 that all complete and partial copies of the COURSE have been destroyed and that none remain in your possession or under your control. The provisions of this Agreement, except for the license grant and warranty, will survive termination. U.S. GOVERNMENT RIGHTS If You use the COURSE by or for any unit or agency of the United States Government, this provision applies. The COURSE shall be classified as "TRAINING COURSE", as that term is defined in the Federal Acquisition Regulation (the "FAR") and its supplements. T71 represents that the COURSE was developed entirely at private expense, that no part of the COURSE was first produced in the performance of a Government contract, and that no part of the COURSE is in the public domain. (1) If the COURSE is supplied for use by DoD, the COURSE is delivered subject to the terms of this license agreement and either (i) in accordance with DFARS 227.7202-1(a) and 227.7202-3(a), or (ii) with restricted rights in accordance with DFARS 252.227-7013(c)(1)(ii) (OCT 1988), as applicable. (2) If the COURSE is supplied for use by a Federal agency other than DoD, the COURSE is restricted computer COURSE delivered subject to the terms of this license agreement and (i) FAR 12.212(a); (ii) FAR 52.227-19; or (iii) FAR 52.227-14(ALT III), as applicable. RESTRICTED RIGHTS Use, duplication, or disclosure by the U.S. Government is subject to restrictions set forth in this agreement and as provided in DFARS 227.7202-1(a) and 227.7202-3(a) (1995),DFARS 252.227-7013(c)(1)(ii) (OCT 1988), FAR 12.212(a) (1995), FAR 52.227-19, or FAR 52.227-14 (ALT III), as applicable. Manufacturer is Treadstone 71 LLC, 11864 Izarra Way, 7206, Fort Myers, FL 33912 EXPORT LAW You acknowledge and agree that the COURSE may be subject to restrictions and controls imposed by the United States Export Administration Act (the "Act") and the regulations thereunder. You agree and certify that neither the COURSE nor any direct product thereof is being or will be acquired, shipped, transferred, or re-exported, directly or indirectly, into any country, except pursuant to an export control license under the Act and the regulations thereunder, or will be used for any purpose prohibited by the same. By using the COURSE, You are acknowledging and agreeing to the foregoing, and You are representing and warranting that You will comply with all of the United States and other applicable country laws and regulations when either exporting or re-exporting or importing the COURSE or any underlying information technology. Further, You represent and warrant that You are not a national of Cuba, Iran, Iraq, Libya, North Korea, Russia, Sudan or Syria or a party listed in the U.S. Table of Denial Orders or U.S. Treasury Department's list of Specially Designated Nationals. GOVERNING LAW This Agreement is governed by the laws of the State of Florida without regard to conflict of laws rules and principles. Application of the United Nations Convention on Contracts for the International Sale of Goods is expressly excluded. MISCELLANEOUS If any provision hereof shall be held illegal, invalid or unenforceable, in whole or in part, such provision shall be modified to the minimum extent necessary to make it legal, valid and enforceable, and the legality, validity and enforceability of all other provisions of this Agreement shall not be affected thereby. No delay or failure by either party to exercise or enforce at any time any right or provision hereof shall be considered a waiver thereof or of such party's right thereafter to exercise or enforce each and every right and provision of this Agreement. This Agreement will bind and inure to the benefit of each party's permitted successors and assigns. You may not assign this Agreement in whole or in part, without T71's prior written consent. Any attempt to assign this Agreement without such consent will be null and void. This Agreement is the complete and exclusive statement between You and T71 relating to the subject matter hereof and supersedes all prior oral and written and all contemporaneous oral negotiations, commitments and understandings of the parties, if any. In the case of any conflict between the terms of this Agreement and the provisions of any purchase order for the COURSE, the terms of this Agreement shall control. Please contact the Director of Business Development at T71 11864 Izarra Way, 7206, Fort Myers, FL 33912 888.714.0071 –
[email protected]