Two Hundred Students per Year for Two Years (Virtually Unlimited) for all online courses. Do the math:
99k/18classes/400students.
$13.75 per class.
Unheard of as Treadstone 71 gives back to the community. We've been in the intel game since 1982. Time to give something back!
And any class we develop within the 2 years is also part of the subscription.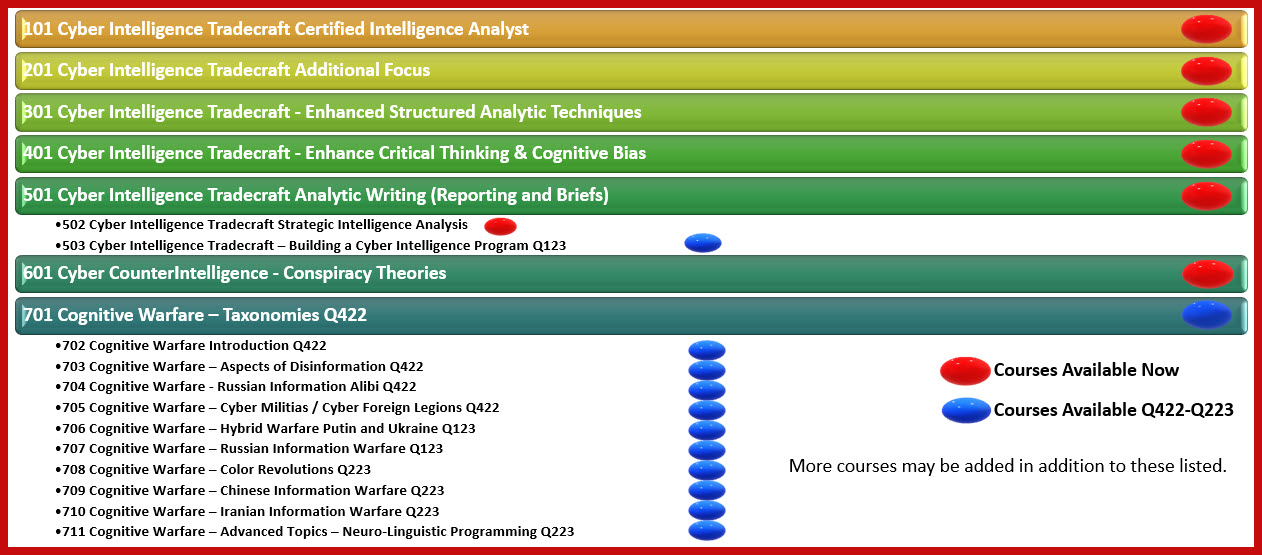 A subscription to the Treadstone 71 Cyber Intelligence Tradecraft Training Courses at cyberinteltrainingcenter.com gives you access to basic through advanced courses, enough to build a well-skilled cyber intelligence program. The courses are self-paced, video-based, with professor's office hours, assessed assignments and periodic quizzes.
Two hundred students per year (basically unlimited) for two years for all portal published courses! 20 Subscriptions to be sold. Look at the numbers:
Subscribe to all online courses. 2 years 200 students per year $99k. Virtually unlimited enrollment. 99k/18classes/400students. Who cannot afford to signup. $13.75 per class. And, any class we develop within the 2 years is also part of the subscription.
Two hundred students per year (basically unlimited) for two years for all portal published courses! 20 Subscriptions to be sold. Normal cost for one student and all Treadstone 71 courses is approximately $30K.
Access courses on any internet-enabled device via PC, MAC, iOS, or Android tablets. All you need is a set of headphones and a browser, and you are on your way. You may stop and start lectures as you wish from anywhere at any time.

The Two Year Two Hundred subscription maximizes the potential of your existing staff, guides new employees from junior level through senior. These classes include traditional cyber intelligence and counterintelligence tradecraft along with innovative Strategic Intelligence and Cognitive Warfare trainings. We create the glue that ties the physical intelligence world with the virtual.

What you get: Instant and unlimited access to the Treadstone 71 course catalog (existing and anything created during the two-year period. See the image above for the current course list:
ANALYTIC WRITING
BUILDING A CYBER INTELLIGENCE PROGRAM
CERTIFIED CYBER COUNTERINTELLIGENCE ANALYST - INFLUENCE OPERATIONS
CERTIFIED CYBER INTELLIGENCE ANALYST
COGNITIVE WARFARE INTRODUCTION
Aspects of Disinformation

Information Operations

Russian Information Alibi

Cyber Militias / Cyber Foreign Legions

Hybrid Warfare Putin and Ukraine

Russian Information Warfare

Color Revolutions

Chinese Information Warfare

Iranian Information Warfare

Advanced Topics – Neuro-Linguistic Programming
DISINFORMATION, MISINFORMATION, DECEPTION, AND NARRATIVE CONTROL
INTELLIGENCE AND COUNTERINTELLIGENCE - CYBERSPACE LIFECYCLE AND OPERATIONS
ONLINE - BASIC CYBER INTELLIGENCE TRADECRAFT
ONLINE ADVANCED CYBER INTELLIGENCE TRADECRAFT
ONLINE ANALYTIC WRITING (REPORTING AND BRIEFS)
ONLINE CERTIFIED CYBER COUNTERINTELLIGENCE ANALYST
ONLINE CRITICAL THINKING AND COGNITIVE BIAS FOR CYBER
ONLINE ENHANCED CRITICAL THINKING AND COGNITIVE BIAS
ONLINE ENHANCED STRUCTURED ANALYTIC TECHNIQUES
ONLINE INTERMEDIATE CYBER INTELLIGENCE TRADECRAFT INTELLIGENCE
ONLINE STRATEGIC INTELLIGENCE ANALYSIS
ONLINE STRATEGIC INTELLIGENCE ANALYSIS PLUS BUILDING AND ENHANCING YOUR CTI PROGRAM
ONLINE THREAT HUNTING WITH TAHITI AND MAGMA
STRATEGIC INTELLIGENCE ANALYSIS

Each course includes:
Multiple video lessons (number of lessons varies by course). Supplemental videos and materials, templates, and real-world assignments. Artifacts, documents, readings, and related documents. A Treadstone 71 Reference Guide (see Figure 1 below) Some courses require books delivered by Amazon Kindle to each student. Learning assessments (quizzes) used to evaluate knowledge (we assess course content skill by way of practical exercises as opposed to memorized question and answer tests). Certificates of completion with every completed course, Certifications for Courses named as such with CPE credits.

Use Treadstone 71 as your primary portal for cyber intelligence, counterintelligence, and cognitive warfare trainings.

Purchase a subscription with 1 seat to Cyberintellipedia for $149k (before December 31, 2022. Another $50k savings. Seats to CyberIntellipedia normal sell for $99K.
Who should take the Treadstone 71 trainings?

$99K plus books is a huge savings to organizations that need training for multiple employees in various collection, analysis, and intelligence tradecraft roles. Positions with titles such as: VP Cybersecurity, CISO, Chief Risk, Information Security Managers, SOC Analysts, Cyber Threat Intelligence Analysts, Operations Analysts, SOC Manager, Chief Security Officer, Head of Cyber Defense, Chief Security Executive, Information Security Analyst, Cyber Security Analyst, Insider Threat Analyst, Cyber Intelligence Analyst, Director Cyber Threat Intelligence, Threat Intelligence Cyber Operations, Cyber Forensics, All Source Intelligence Analyst, Cyber Defense Analyst, Cyber Exploitation Analyst, Cyber Threat/Warning Analyst, Target Network Analyst, Technical Surveillance Countermeasures Analyst, Strategic Intelligence Analyst, Strategic Intelligence Planner, Crime Intelligence Analyst, Open Source Intelligence, Strategy Analyst Intelligence and Foresight, Missions Systems Analyst, Cognitive Warfare Operations, Product Support Hybrid, and Risk Analyst non-inclusively.

Pricing: $99,000 for two years and up to two hundred students may taken any or all Treadstone 71 Intelligence Tradecraft courses. This includes existing, under development, and courses not yet developed. If you signup before the end of 2022, you receive 10% off any payment schedule option.

Payment schedule options: $99,000 up front, $52,000 bi-annually (for one year), $28,000 quarterly (for one year) $6,000 monthly (for two years). All with up to 400 students covering the two-year subscription cycle.

Required books are extra. Your subscription activates the day of initial purchase. Each course comes with its own z-fold reference guide.

We also have available a choice for organizational management within our portal for student course status reporting, adding, and removing students, tracking quiz grades, and progress reporting.

Treadstone 71 offers customization for courses including adding internal artifacts, policies, procedures, videos, and rules of engagement as examples of tailoring courses to your needs. This takes a bit longer to setup and requires a small setup fee.

Upon enrollment, each student receives login instructions and the best way to use the portal.





Bundle Contents - All Courses
(More to come) - Any new course published during the two-year subscription is part of the bundle!